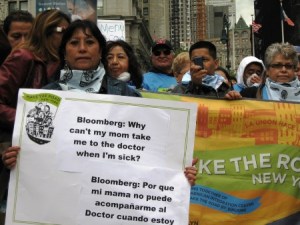 Eighteen members of the City Council will be stopping by public schools when parents drop their children off tomorrow in an effort to get the council to pass a paid sick leave bill this session.
The Paid Sick Time Act would require small businesses to allow employees to accrue sick time. The Working Families Party and other labor and progressive groups have been pushing for the bill for nearly a year now, and a veto-proof majority of council members have signed on in support of the legislation. However, council speaker Christine Quinn has not signaled when she will bring the legislation to the floor for a vote. Mayor Bloomberg has said he supports the legislation in principle, but wanted to see specifics before agreeing to anything.
Advocates say that allowing workers–most of whom work in restaurants and other low-wage service jobs–say that there is a public health imperative to making companies give employees days off when they are sick. Opponents of the measure have lobbied hard to make changes to the legislation, and now small business that employ fewer than 20 people are only required to grant five sick days for their employees.
Want to meet your council member? The meet-and-greet kicks off around the city starting at 7:30. Full who's and where's below:
PS 333, Upper West Side
154 West 93rd Street
Council member Gale Brewer, sponsor of the Paid Sick Time Act
PS 234, Chinatown
292 Greenwich Street
Council member Margaret Chin, co-sponsor of the Paid Sick Time Act
PS 63, East Village
121 East 3rd Street
Council member Rosie Mendez, co-sponsor of the Paid Sick Time Act
PS 198, Upper East Side
95th Street and 3rd Avenue
Council member Daniel Garodnick, co-sponsor of the Paid Sick Time Act
PS 158, Yorkville
1458 York Ave
Council member Jessica Lappin, co-sponsor of the Paid Sick Time Act
PS 192/PS 325
500 West 138 Street
Council member Robert Jackson, co-sponsor of the Paid Sick Time Act
BRONX
PS 105, Bronxdale
725 Brady Avenue
Council member James Vacca, co-sponsor of the Paid Sick Time Act
PS 33, Fordham Heights
2424 Jerome Avenue
Council member Fernando Cabrera, co-sponsor of the Paid Sick Time Act
QUEENS
PS 19, Corona
98-02 Roosevelt Avenue
Council member Julissa Ferreras, co-sponsor of the Paid Sick Time Act
PS 150, Sunnyside
40-01 43 Avenue
Council member Jimmy Van Bramer, co-sponsor of the Paid Sick Time Act
PS 212, Jackson Heights
3425 82nd Street
Council member Daniel Dromm, co-sponsor of the Paid Sick Time Act
PS 132 Ralph Bunche, Springfield Gardens
132-15 218th Street
Council member James Sanders, co-sponsor of the Paid Sick Time Act
BROOKLYN
PS 11, Clinton Hill
419 Waverly Ave
Council member Letitia James, co-sponsor of the Paid Sick Time Act
PS 130, Windsor Terrace
70 Ocean Parkway
Council member Brad Lander, co-sponsor of the Paid Sick Time Act
PS 249, Prospect Park South
18 Marlborough Street
Council member Mathieu Eugene, co-sponsor of the Paid Sick Time Act
PS 208, East Flatbush
4801 Avenue D
Council member Jumaane Williams, co-sponsor of the Paid Sick Time Act
PS 321
180 7th Ave Brooklyn
Council member Stephen Levin, co-sponsor of the Paid Sick Time Act
STATEN ISLAND
PS 14, Clifton
100 Tompkins Ave
Council member Debi Rose, co-sponsor of the Paid Sick Time Act