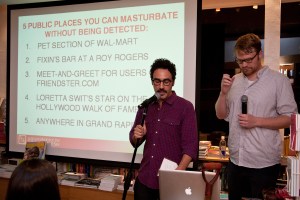 Last Thursday evening, a group known as the Association for the Betterment of Sex (ABS) gathered amid a collection of plaid-wearing onlookers at the Greenlight Book Store in Fort Greene, with an ambitious goal: forging a new understanding of human sexuality. The ABS, of course, does not exist outside the realm of comedy. It is a front for the five humorists who collaborated on the recently published Sex: Our Bodies, Our Junk–Todd Levin, who writes for Conan O'Brien; Scott Jacobson, formerly of The Daily Show; Mike Sacks, author of And Here's The Kicker; Ted Travelstead, who has written for McSweeney's and Esquire; and Jason Roeder, a staff writer for The Onion.
The over-sized trade paperback, which was published in late August, is a spot-on parody of earnest seventies staples like The Joy of Sex; Our Bodies, Ourselves and "other manuals featuring tasteful watercolors of hippies going down on each other," as Levin put it during his introductory remarks.
Before a crowd of nearly a hundred fans—comedy groupies in horn rims and hoodies, curious locals, a smattering of graybeards and various comedy-world friends of the authors—the ABS team presented some of the its most significant findings via PowerPoint.
These included Five Places You Can Masturbate Without Ever Being Detected (the Fixin's Bar at a Roy Rogers made the list; conveniently there are the locations in New York City alone), a handy Genital Self-Examination Checklist (all findings should be verified by a notary public, "or else you could have your genital audited," Jacobson warned) and Creative Grips for the Advanced Onanist, which Mr. Roeder displayed with the vigor of a certified professional (and no stunt double).
The evening included three special guests, each of whom riffed on the subject of sexuality. Former Colbert Report head writer Allison Silverman (pictured) delivered a hilarious multimedia monologue on why feminism isn't funny, while cartoonist Michael Kupperman read a piece entitled "The Autobiography of Mark Twain, Part 2," detailing the dead writer's inadvertent role in a 1970s porno flick. The engaging Jessi Klein, a former writer for Saturday Night Live, used her age–35, something of a magic number for single women–to joke about freezing her eggs, taking back the term spinster by recasting it as "spinsta" and confirming that while she's not setting a deadline for marriage, she would like to make it happen before she gets herpes.
The final ABS presenter was Mr. Travelstead, a brawny bear of a fake sex authority (he was the basis for the cover art and the awkward illustrations within the book). He discussed the delicate subject of fetishes, explaining that "the term comes from the Esperanto word 'femtachezera,' which loosely translated, means 'to gorge on a very specific melon from a secretly located patch.'" He then ran through a few of his favorite fetishes, which include angry hobos and Eddie Money. His main point:  "to eliminate shame from the bedroom when it comes to fetishes–unless shame is your thang."
Naturally, there were a few groan-inducing moments at the airy independent bookstore, located in the former home of the Black Veterans For Social Justice. One of the loudest of these occurred during Mr. Roeder's explanation of a masturbation technique for women called "Backup on the 101," which involves the use Matchbox cars. The groan came when he suggested that advanced practitioners could "pop a miniature replica of the General Lee from the Dukes of Hazzard into your HOV lane for that South-of-the-Mason Dixie rush."
Yes, it looks like them Duke boys are still up to no good.
Of course there were plenty of chuckles as well. As Levin noted in closing, "It's really nice hearing so many people laughing at the act of sex–and a refreshing change from hearing them laugh during it."
Photos courtesy Jena Cumbo.