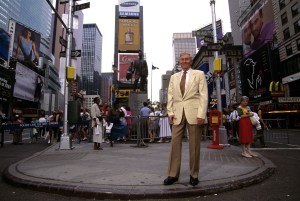 Before Joe Simon could begin work at Condé Nast as the company's first ever chief technology officer, he had to fight a breach-of-contract lawsuit with his former employer Viacom, according to Keith Kelly.
Mr. Simon signed a four-year contract with Sumner Redstone's Viacom one year ago, and the company saw his move to Condé Nast as direct competition.
A Condé Nast spokeswoman told Mr. Kelly that everything has been resolved and Mr. Simon is now at work. Mr. Kelly thinks that Condé Nast's parent company Advance Publications paid out a seven-figure sum to Mr. Redstone before Mr. Simon could start work.
Mr. Simon was hired by new Condé Nast president Bob Sauerberg over the summer to fill the newly created position. At Viacom, Mr. Simon oversaw technology, including mobile application development, for more than 58 television networks and 400 websites.