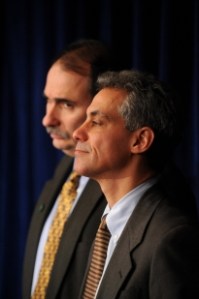 Atlantic Media Company president Justin Smith announced yesterday that Scott Havens, who has been one of the masterminds of The Atlantic's growth online, will be taking over digital strategy for the National Journal Group as well.
Mr. Havens is moving into newly created position, vice president of digital strategy and operations, "to lead and implement our 'digital-first' corporate and business unit strategies," Mr. Smith wrote in a memo to the company.
"It really is a new thing for me. I'm just cutting my teeth on the National Journal space," Mr. Havens told the Media Mob on the phone Thursday evening. He said that in the last year the company has grown traffic on its mobile platforms by six or seven times. Jeff Bercovici reported yesterday that Mr. Smiths' company has started turning a profit online.
Mr. Havens came to The Atlantic from Yahoo and, before that, Condé Nast, where he worked with David Carey on the business side of Portfolio. "At Condé Nast the family owns the company and Yahoo is a public company and they have product councils and general managers," he said. "You just have to go through a lot more steps. There's more of a hierarchical organizational structure. I don't feel like that is the case now. We have a small team. We get together, we make decisions and we move."
He said that having few corporate hoops to jump through will allow the National Journal and the rest of the company to compete with scrappier competition. "For The Atlantic I think we're less worried about you, you know, competing with Time Inc. or Dow Jones or Hearst or any of those big media companies in New York," he said. "We're more worried about the interrupters, you know, the small, nimble companies — the Henry Blodgets of the world, or Politico for example."
"D.C. is a great place to be right now," he added. "There's a lot of exciting entrepreneurial stuff with Jim Brady's TBD. And obviously Politico and Slate and The Atlantic. It makes it fun. If you look back five years, I don't think you'd say the same thing about DC as a digital media hotspot. We're getting good talent to come down to the city."
We asked Mr. Havens if a launch date for the National Journal had been announced yet. He laughed and said it was better to ask a spokeswoman. She said we will be able to see what all those new National Journal hires are capable of starting in late October.
Earlier: High Tide at The Atlantic / The iPad Caucus Has Infiltrated the White House
zturner@observer.com / @zekeft