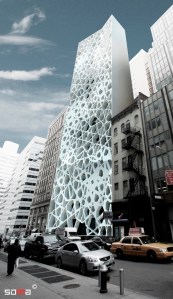 The media has not been kind to the developers of the Park51 Islamic community center ONLY STEPS FROM GROUND ZERO, having mocked everything from its imam to its Twitter feed, turning it into a cause maléfique amidst the August news doldrums. Which is why it's surprising to see the project's developer Sharif El-Gamal making the rounds of the media all of a sudden.
On Sunday, there was the big 60 Minutes feature, and yesterday El-Gamal unveiled new renderings and went on the BBC. Now, he has a big interview with The New York Times where he lays out in detail his plans for the community center.
Half the budget is expected to come from $2,700 top-tier family memberships (those rich Tribecans — it's only $1,225 at the 92nd Street Y); there will be a national campaign to raise small donations from supportive Muslims; and sukuk will be used to keep everything kosher, er, halal. "I hope they come," El-Gamal told The Times. "We don't see this being a success until there has been a bar mitzvah, a Hindu wedding."
Also of note: The interview was held at El-Gamal's "frenetic Flatiron district office, decorated with black leather and chrome furniture and a calligraphied "Allah" painted by his wife." This may confirm reports that his Soho Properties had been evicted from offices in the neighborhood, whose name it bore, for back rent.
Interesting details aside, The Observer can't help but wonder how all this renewed attention might impact the "narrative." Is the message finally under control? With 9/11 passed and the controversy somewhat subsided, is El-Gamal trying to project an air of inevitablity? Does the media finally have something better to focus on, like the upcoming elections and hooker-teachers? Or is this all about to reignite the furor, and October will be August all over again?