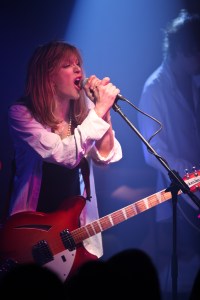 After watching Iggy Pop tell a crowd of pretty faces they were going to hell, The Observer returned to hotspot Don Hill's last night to check out a performance by the inimitable Courtney Love. The Hole frontwoman finally took the stage at 1:30 a.m., at which point the free DeLeón tequila had run out and the venue was nearly as packed as the night before. When it began to seem like she was a no-show, out of nowhere security whisked Ms. Love right beside us and onto the stage. "Can I get a guitar?" she rasped into the microphone.
During her set, Courtney treated us to an off-the-wall cover of "Bad Romance," barked at the crowd for cigarettes and energy drinks, and though she was losing her voice insisted "I wanna keep going, I don't give a shit."
The delay did, however, give us a chance to talk with the boss, Nur Khan. Don Hill's is the latest in the long line of clubs Khan has developed, after Hiro Ballroom, Rose Bar and Kenmare, but he claims this new launch comes closest to his ideal spot.
"This is 100 percent my passion," he said after wheeling us to a semi-quiet part of the always-loud bar. "I'm a real downtown guy, and I feel like we've lost it over the years, you know. This is the one void that needed to be filled. There hasnt been a CBGB's or a Max's or a Mudd Club in so long and that's the stuff that I want to do. It's the perfect venue for me—I have all the equiptment in place."
Courtney ended the set with a toned-down rendition of the Big Star classic, "Thirteen."
"I'll see you at The Garden," she said, and then began the song.