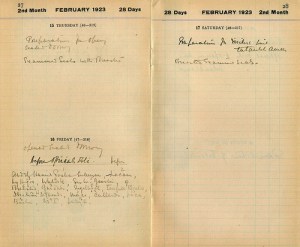 During his Web 2.0 Expo keynote yesterday, Foursquare founder and CEO Dennis Crowley spent a few minutes talking about the significance of third party developers, and how creating an ecosystem of applications that make use of Foursquare's check-in data is a priority for the Cooper Square geosocial start-up. We wrote recently that becoming the dominant platform for location data — the platform that powers a wide variety of valuable apps and services that are powered by check-in data — will be essential if Foursquare is to grow out of its status as a niche mobile app.
Crowley gave three examples of existing applications that he thinks use the Foursquare platform in creative ways. One was some ridiculous-sounding zombie game. One was a clever dating app called Assisted Serendipity, which alerts users in search of love when the male-female ratio at their favorite bars or restaurants has turned in their favor. The third was Weeplaces, a service that lets users look at handsome visualizations of their check-in history and highlights trends in their movements. Built by the Y Combinator startup Movity.com, Weeplaces hopes to leverage geodata from Foursquare — and their competitors Facebook Places and Gowalla — to become "a storage and organizational tool for all geodata," which can include check-ins as well as pictures, tweets, and comments tagged with location.
The Observer recently talked to Eric Wu, the West Coast-based founder of Weeplaces, about how the app can make check-in data useful — not just to advertisers but to users. In their research, Mr. Wu said, he and his team found that most people they interviewed joined Foursquare because they wanted to be able to find out where their friends were. But it turned out that Foursquare's game mechanics — wherein users are rewarded with virtual badges, points, and sometimes deals for checking in to certain places — were not enough to keep their interest.
The central conceit of Weeplaces, which launched earlier this month, is that people will be incentivized to check in more often if it means they are building a comprehensive record of their behavior that they can access, annotate, and share later. This dovetails with something Foursquare boosters have been saying for a while: that while the service is fun as a multiplayer experience, it can also be used as a sort of diary.
"We thought the historical aspect of check-ins was valuable to users — for understanding where you've been, where you spend the most time, and then connecting with friends around that," Mr. Wu said.
If people are conscious of the fact that they are creating a log of their movements, they may start checking in to more obscure places — not just cool or unusual establishments but boring ones like Duane Reade and the subway stop they use to get to work.

Mr. Wu said he believes that while "no one has really built a useful app" on top of any of the existing location platforms — Foursquare included — he believes that geodata will soon become a central part of people's lives.
"I just think that everything in our lives will soon be related to geodata," he said, "whether it's where we saw a movie or where we were reading that book. Most of our photos will soon be geotagged as well."