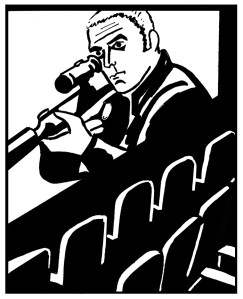 For the past several years, media business models have been under siege. Music and newspapers get a lot of the attention, but what about the business model of the classic American movie star? Like everything else, this model has recently come into serious question, as big-time stars like Tom Cruise and Harrison Ford and Julie Roberts don't open films the way they once did.
This weekend, the question of value was revived again with the debut of George Clooney's The American. Mr. Clooney occupies an unusual perch among Hollywood glitterati–he's the A-lister who doesn't appear in many A-list films. According to The Hollywood Reporter, of the 10 films he's worked on since 2005, only one–Oceans 13–has earned more than $100 million at the domestic box office. His latest effort is a stylish and respectfully received R-rated international thriller that, if not for his presence, might be on the art-house circuit.
And yet Mr. Clooney remains a mega-star, raising the question: Is the box office as powerful a draw as it once was in determining an actor's stature in Hollywood? It was curious to review Forbes magazine's new list of the "best actors for the buck." Essentially, Forbes divided a star's pay by the amount of profit that star's movies have generated, thereby coming up with a pecking order for commercial success. At the top of its list: Shia LaBeouf, who has generated an estimated $81 in profit for every dollar he's been paid. Second place, Anne Hathaway, at $64, and third place, Danielle Radcliffe, at $61. Further down the list, Meryl Streep generated $21; and at $17, Nicholas Cage is only a dollar behind the more widely revered Johnny Depp.
In the case of Mr. LaBeouf and Mr. Radcliffe, it's clear that being attached to big special-effects franchises and being hired at a relatively young and inexpensive age have contributed to their success. Ms. Hathaway has had a more diverse and impressive career, though of course her high placement in this exercise is similarly skewed by her recent role in Alice in Wonderland (whose chief star was Mr. Depp), and the fact that females are still struggling for pay parity.
And Mr. Clooney? He doesn't even make Forbes' Top 10, making his ability to be both iconic and eclectic seem even more impressive.
rsiklos@observer.com