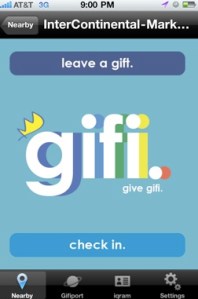 A charming new Foursquare-based app called Gifi was announced at the TechCrunch Disrupt conference in San Francisco today. The app, built by mobile payments start-up Venmo, will allow Foursquare users to leave money for their friends as gifts at locations like coffee shops, restaurants, etc. If one of your pals goes to the same coffee shop every morning, for instance, and regularly checks in there on Foursquare, you can use Gifi to leave them money for an espresso along with a little message, and they'll be informed of it next time they're there.
The app is free and should be available today, but you need to have accounts with both Foursquare and Venmo to use it.
Gifi should be warmly received at Foursquare, which is counting on third party developers to build applications that will create new uses for location-based check-ins. The more Foursquare-powered apps like this exist, the more chance New York's most promising tech start-up has for becoming a true platform for location rather than just a niche service.