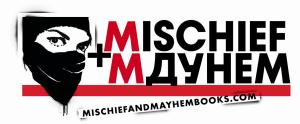 "I think that we recognize that we're way past the moment of panic," said the novelist DW Gibson yesterday. "And it now sort of feels like a land of opportunity."
Mr. Gibson was explaining why he and four of his friends– Choire Sicha of the Awl and fellow novelists Dale Peck, Lisa Dierbeck, and Joshua Furst– have decided to get into the book business.
"We're a publishing collective," Mr. Gibson said. "The motivation is to reinstall a notion of editorial process that's all but vanished from the traditional corporate structure of publishing that's out there now."
They're calling their outfit Mischief + Mayhem, and they'll operate as an imprint of OR Books, which was founded last spring by a pair of editors– John Oakes and Colin Robinson– who were fed up with the inefficiencies and indignities of traditional publishing.
In keeping with the OR Books way (the company's motto is "No book printed until it's sold") all Mischief + Mayhem titles will be issued in print-on-demand formats and e-books, and will be sold directly through the OR website instead of through retailers. They will also publish a monthly online journal called Wild Rag, which the five founders will take turns editing.
"The model doesn't involve warehousing, it doesn't involve returns, and it doesn't involve staffing overhead," Mr. Gibson said. "We essentially print the books as they're ordered, in small quantities."
The goal is for Mischief + Mayhem to publish six books per year, all fiction, starting with Ms. Dierbeck's The Autobiography of Jenny X, which will be available October 15th. The book, from which the author will earn a 50% royalty, will serve as a test run for M&M's business model, which the founders hope will allow authors who are not interested in reaching mass audiences to earn a living wage from their writing. The second book from Mischief + Mayhem will be Mr. Gibson's An All-American Field Guide to the Outside World; they are also in talks with Calvin Baker, Helen DeWitt, and Mike Heppner.
The idea to start the collective, according to Mr. Peck, first arose three years ago, and "was borne out of equal parts aesthetic ambition and the need for a more financially remunerative publishing model for writers."
Several of the founders had novels they wanted to publish, but the offers they were getting from existing houses were for peanuts-tiny advances, in most cases, worth just one or two thousand dollars. "For something you spend two or three or four years working on, it seems kind of ridiculous to go down that route," Mr. Peck said. "So on a practical level, we felt like the time had come, what with the new technology and everything else, for a new independent press whose goal wasn't to sell 50,000 or 100,000 copies of a book."
"All of us who have published books sell between 5,000 and 15,000 copies in hardcover," said Mr. Peck, who is the author of literary novels Martin and John and Now It's Time To Say Goodbye as well as several books for young readers and a few more commercial titles. "The goal is that by cutting out the middlemen, by eliminating the enormous, enormous cuts that are given to Barnes & Noble and Amazon and various distributors, the royalty will be much, much higher."
Originally the founders of Mischief & Mayhem intended to run their operation as an independent start-up, but then the economic crisis happened and investors were suddenly hard to come by. For six months they worked on turning it into a non-profit, at which point Mr. Robinson, who published Mr. Peck's collection of literary criticism in 2004 and who'd been advising the group on an informal basis, suggested they attach themselves to OR Books as an imprint.
Lowering overhead and shooting for modest sales will allow Mischief + Mayhem to publish books that are genuinely radical and experimental, according to Mr. Gibson, not in terms of form and structure so much as plot and character– books with a "rough edge," he said, that would make mainstream publishers squeamish because of the pressures they face to produce books with mass appeal. Ms. Diebert's novel, for instance, centers around an unrepentant terrorist.
"It has to do with characters that make unconventional, dangerous, decisions," Mr. Gibson said. "It has to do with plots that don't follow familiar structures. It has to do with not looking for redemption at the end of every single story."
"People's literary output has become cloistered by this pressure to sell a lot of copies," said Mr. Peck, who remembers feeling that pressure himself as an author under contract with Farrar, Straus and Giroux after the house was sold to Von Holtzbrinck in 1994.
Small houses that remain independent and self-identify as experimental have not impressed Mr. Peck lately either.
"I think that a lot of them seem to rely on special pleading," he said. "You know, 'This book is really good for you,' in the way that plain oatmeal is really good for you. And then a lot of them just seem really nihilistic, or… idiosyncratic to the point of being virtually useless. I'm trying to think of a less mean way of saying it but I think that's really what I think of it."
He went on: "I think there are a lot of these people of the post-Pynchonian generation who have such incredibly narrow views of what literature is and what it can do and who reads it and so on and so forth, that what they do just gets smaller and smaller, quirkier and quirkier, but not in an interesting way– in an almost deliberately banal sort of way."
The books published by Mischief + Mayhem, according to Mr. Peck, will be characterized by a leftist, "almost anarchic" stance.
"It's a position that's rooted in narrative and character much more than it is in certain formal manipulations of prose or structure, which is what I think has happened with what most people consider experimental literature at this point," he said. "What we're looking for is a new character in literature, who may well be an old character in literature who has been written off. If I had to say what the difference is between us and the other guys is that we like Dostoevsky and they like Tolstoy… We want the man living underground, we want the idiot, we want the revolutionary, we want the guy who murders someone to see what it would feel like, rather than the prince who decides to, you know, experiment with agrarian reform on his estate."
The founders of Mischief + Mayhem will be celebrating their launch on Sept. 28 with a party co-hosted with Joseph O'Neill, Meghan Daum, Nick Flynn, and A.M. Homes.