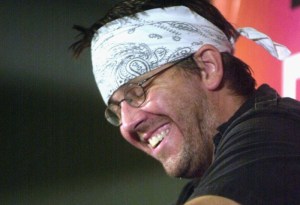 The University of Texas at Austin is set to release David Foster Wallace's papers to the public. The Harry Ransom Center at UT Austin acquired Wallace's manuscripts, stories and essays as well as items from the author's personal library last March. The books from Wallace's collection are particularly fascinating, as they are filled with the writer's marginalia, made as he responded to and analyzed others' works.
The event marking the opening of the Wallace collection will include writers and actors reading from Wallace's work and will be broadcast over the web. As noted by the NYT, there's also a new Wallace novel due out next year: The Pale King. In Wallace's own notes about the book he states that it is in part about "crushing, crushing boredom."
The Harry Ransom Center will broadcast the DFW event Tuesday night, Sept. 14 at 7 p.m.
[NYT]