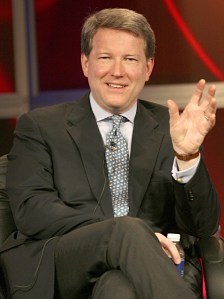 After more than 13 years leading the division, ABC News president David Westin announced his resignation in a memo to his staff Monday night.
Mr. Westin wrote that he was leaving to pursue other professional opportunities. "I've always admired those few who know when it's time to move on. This is the right time for me," he wrote.
The New York Times' Bill Carter reported Monday that there were also financial pressures behind the move. In February ABC News shed nearly 400 jobs and, according to Mr. Carter, there is still pressure on Mr. Westin to increase the division's profit margins.
"I won't pretend that all of this will be easy," Mr. Westin wrote to his staff when announcing changes to the division, including buyouts, in the spring. "But I do truly believe that it will be good for ABC News. I believe in this institution. I believe in its mission and in its future."
Following the announcement, Mr. Westin told The Observer that the cuts were affecting every level of the company.
"I'm never going to talk about any individuals' salaries, because it wouldn't be fair," Mr. Westin said. "But I can tell you without reservation, we've been addressing that for a few years now, quietly behind the scenes. The economic reality has effected everyone's compensation."
In the last year Mr. Westin oversaw the transition of George Stephanopoulos to Good Morning America, Christiane Amanpour to This Week and Diane Sawyer to World News Tonight.
Mr. Westin told The Observer that he had full confidence in Mr. Stephanopoulos and his GMA team going into the spring.
"I'm hopeful that if you talk to me in six months or a year that the audience will have responded," said Mr. Westin. "This is way early going. But the way I look at it, we are in better shape than I would have predicted at this point."
Network president Anne Sweeney has arranged for Mr. Westin to stay on through the end of the year to ensure a smooth transition. Mr. Westin is expected to address the staff today.