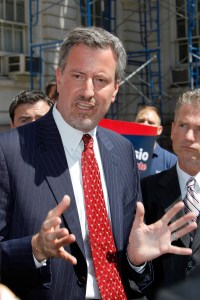 Public Advocate Bill de Blasio has managed to secure a promise from JP Morgan Chase saying that the company will not spend any money to directly influence political campaigns. Politico broke the news this morning.
The pledge is part of a larger campaign to receive such public assurances from large companies in the wake of the Supreme Court's Citizens United v. Federal Election Commission decision. One of his past major victories was securing a similar promise from Goldman Sachs. JP Morgan now joins Goldman in the positive column on their website tracking the pledges. Mr. de Blasio is big on websites—he recently launched a website to track misbehaving landlords, and Christine Quinn faintly praised his past proposal to build a website to track City Council funding.
"These are two of the largest financial firms in the country and the steps they have taken are a model for the entire financial industry," Mr. de Blasio said of Goldman and JP Morgan, in a statement. A spokesperson for the public advocate noted that the two companies have a combined financial muscle of some $400 billion and that "even a small portion of that, spent directly in an election, could have a profound impact." A call to JP Morgan was not returned immediately.
Mr. de Blasio personally worked with the company for three months to attain this end, so it would seem that the recent defeat of Rick Lazio's bid for the Republican gubernatorial nomination is but a happy coincidence.