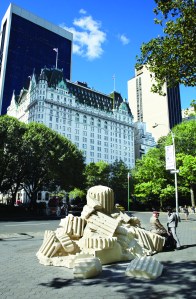 The Solomon R. Guggenheim Museum and the Public Art Fund have taken the unusual step of commissioning works by the same young British artist this fall, a man little known here. "Intervals: Ryan Gander" opens at the Guggenheim Friday, Oct. 1, while the artist's public sculpture in Central Park–or, rather, the ruins of one–went on view earlier this month.
Why Ryan Gander? The London-based artist has picked up some prizes–the Prix de Rome, Art Basel's Baloise Prize, landing on the Becks Futures shortlist–but it is his unusual method of working that appears to be grabbing curators. Rather than creating a personal style in painting or other media and riffing on it, Mr. Gander often constructs installations or experiences linked by little more than his involvement. In one, he placed ads in a Dutch magazine for a graffiti artist to repeatedly scrawl the word "Again" all over town. Another project was a take-off on a college lecture, featuring a slide presentation of associative things that made virtually no sense. In another, he gave taxi drivers learning the circuitous London streets, called "the knowledge," a quiz.
"I've been following Ryan's work closely for a number of years," said Guggenheim curator Katherine Brinson. At the Public Art Fund, meanwhile, "Ryan was top on my list of artists that I wanted to work with, and simultaneously the Guggenheim was considering him. … So we thought let's make a party of it," said Public Art Fund director Nicholas Baume. That said, "with commissioned projects, you don't quite know what you're getting until they're made."
What he got, now on view at the edge of Central Park on East 60th Street, was a public monument about the ruin of a public monument. The Happy Prince is a work based on Oscar Wilde's 1888 short story of the same name, a dark fable relevant to recessionary times. (Growing up in London, Mr. Gander, age 34, said he was told the tale over and over again, and that it made a tremendous impression on him.) It's about a royal who, upon his death, becomes a bejeweled golden statue set high on a hill. Only then does he see his subjects' poverty. Gradually, he cajoles a sparrow into plucking him apart to give the gold and jewels away.
"Wilde's story is a morality tale. The issues of compassionate charity are as pressing today as they were in his time," said Mr. Baume. The Public Art Fund has had something of a history of displaying artists who either already are or later become, at least in cultural circles, household names–Jeff Koons' flowered puppy, Louise Bourgeois' giant spider, Anish Kapoor's sky mirror, Rachel Whiteread's water towers. Guggenheim Museum curator Katherine Brinson describes his way of working as "conceptually rigorous but also playful and poetic, alternating between deadpan humor and a heartfelt poignancy."
At the Guggenheim, Gander is constructing an elaborate art-world in-joke, an installation showing the results of an imaginary struggle between the Dutch Modernist painters Piet Mondrian and Theo van Doesburg. The fight has them crashing through a stained-glass window in the home of Frank Lloyd Wright. It will be on view in the Guggenheim Reading Room.
New York Observer writer Paul Laster recently interviewed Mr. Gander about these poetic projects.
When did the idea for a sculpture based on "The Happy Prince" click in your mind?
In 2006, driving around a roundabout in a landscape of vineyards in Cahors region in the South of France, there was a public sculpture on the center of the roundabout, the usual 'for the public good nonsense'–something that looked like art but meant very little. At that moment, it occurred to me that I should at some point make a public sculpture that directly addressed being a public sculpture itself.
When did you first read "The Happy Prince" or was it read to you?
I had an audio book as a child read by a British TV personality named Felicity Kendal. She read it to me nightly for years. I can recite every word without reading it. And now when I hear her voice on the radio, it still has a strange familiarity.
Is the particular site at the center of Manhattan significant to the project's meaning?
It's really a discussion about the value of art outside of the white cube system and the value of public art to the public–that's what Wilde's story deals with as well. The only contextual necessity is that it be sited in a place where public art has previously existed.
The fable was allegorical when it was written. What is the sculpture a symbol for now?
I don't know, not until the work collides with peoples imaginations; then we'll all see what it is a symbol for.
Since the sculpture was actually fabricated in New York, what part beyond its conception did you play in its production?
I was closely involved, made trips to the fabricators and received images of it at every stage, but that's because I care about it as a thing. It actually turned out better than expected. However, if I had given a rough sketch and had nothing to do with the way it looked beyond that, it would still be justified as a legitimate way of making a work of art. Let's not get tied down in the craft of it. In some respects that's what the work is a direct criticism of.
You talked a bit about the Mayor and the Town Councilors in the story, characters that decry, 'How shabby the Happy Prince looks! Little better than a beggar.' Why are they important to the piece?
If we start to care about the way things look too much, we are in danger of becoming the Town Councilors in the actual story. The work is a byproduct or a remnant of an idea. The work isn't the thing; it's the stories, conversations and memories that will exist because of the physical thing.
What's the inspiration behind your concurrent project at the Guggenheim?
Conflicts and collaborations in the history of art, and the way meaning changes depending on whose perspective you view things from.
Are you happy with the 'storyteller' tag that's been coined for you, or have you invented a better word?
I'd be O.K. being called an inventor. I've invented a word, a game, an art school, a house, a spa, a mathematical equation, jewelry, children's books, a language, typefaces, toys, musical instruments. … You can call me what you want.
Was it a challenge to create singular, focused work for each location?
Yes, it was a very enjoyable challenge, sometimes its easier to work within restrictions. … By having locations, clients, specific audiences can sometimes help you focus your energy.
How do your works come together?
You just walk straight up Fifth Avenue.
The Happy Prince is on view at 60th Street and Fifth Avenue through Feb. 13; "Intervals: Ryan Gander" opens at the Guggenheim Museum Oct. 1 and runs through Jan. 9.