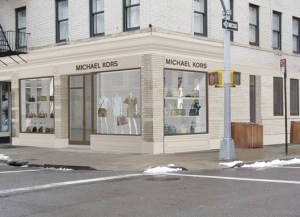 384 Bleecker Street
'Tis the season of fashion, and Michael Kors has celebrated by opening yet another retail location.
The designer to the fabulous set has signed a 12-year lease for a corner spot at 384 Bleecker Street in Greenwich Village totaling 1,475 square feet.
"Michael Kors will be an exciting new addition to this prestigious stretch of West Village real estate," said Joel Isaacs, of Isaacs and Company, who represented the landlord, Beck Street Capital, along with David Baker.
Fashionistas were somewhat dismayed at the departure of cheery clothing vendor Olive and Bette's to make way for the latest addition to the Kors chain. "You can't swing a dead cat without hitting a Michael Kors store," declared popular fashion blog Shophound.
Not quite. But the designer has been rapidly increasing his independent retail presence. Since March, Kors locations have also popped up on Madison Avenue and Fifth Avenue, in the Flatiron District.
Richard Hodos and Stephen Sjurset of CB Richard Ellis represented the tenant.