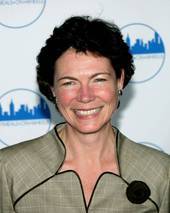 One day after Mike Bloomberg's companion and former state superintendent of banks Diana Taylor hit the hustings for Upper East Side Congressional upstart Reshma Saujani, she is back at again, stumping along Senate hopeful David Malpass.
Taylor clearly likes the one-from-column-A-one-from-column-B approach that her companion does when she decides who to support for higher office. Saujani is a Democrat, while Malpass is vying for the G.O.P. nomination against Sen. Kirsten Gillibrand. Bloomberg backed G.O.P. comptroller hopeful Harry Wilson today, and has lent his support to Republican attorney general candidate Dan Donovan, but has backed only Democrats for local Congressional and state legislative races, as Adam Lisberg notes.
But if party divides Malpass and Saujani, they are linked by the fact that neither polls nor pundits think they are going to win tomorrow. Malpass has trailed in most polls against rivals Joe DioGuardi and Bruce Blakeman, and Saujani herself has begun to talk about running again in 2012.
But the G.O.P's race is wide-open, and Maloney hasn't faced serious opposition in so long an upset remains possible. If either (or both) of Taylor's candidates do better than expected tomorrow, then expect the clamor for Taylor 2012 (for Senate) or Taylor 2013 (for Mayor) to grow louder.
Pressed about her own political future earlier today, Taylor said, "It's a long way off. It's what, two years off, and a lot can happen between now and then, and you just don't know. I don't even know if I'd run…it's fun to contemplate."