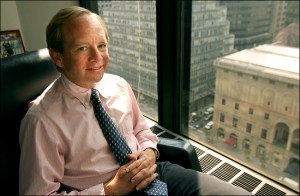 The Tom DiNapoli for Comptroller campaign continue to try to use the apparently impending guilty plea of Alan Hevesi against his G.O.P. opponent Harry Wilson.
The DiNapoli campaign is out with a release tying Wilson to Steven Rattner, the New York financier who led the Obama administration's rescue of the auto industry and whose investment fund, the Quadrangle Group, paid $12 million to settle allegations that it had paid kickbacks to win pension fund business.
Wilson and Rattner both served on the Obama administration's auto rescue task force.
"Harry Wilson needs to come clean and explain his relationship with Steve Rattner, his mentor and key campaign advisor, who, according to the Wall Street Journal, is 'under investigation by New York Attorney General Andrew Cuomo and the Securities and Exchange Commission in connection with alleged kickbacks to win investment business,' says DiNapoli campaign spokesman Eric Sumberg.
Most analysts have thought that the Hevesi scandal will damage DiNapoli since the two hail from the same party and are both longtime political hands. As such, the Wilson campaign has been repeatedly calling on DiNapoli to release his schedule to see if he met with anybody with interest before the pension fund.
Responds Wilson spokesman Bill O'Reilly,
This is patently ridiculous. Steve Rattner has no involvement in the Wilson campaign whatsoever. He and Mr. Wilson worked together restructuring the American auto industry for the Obama Administration, and they did an extraordinary job in saving that sector from total collapse. If Mr. DiNapoli wants to learn more of what they did together, he can read the just-published account of their work on the Task Force. It is entitled 'Overhaul', and we'll give him a copy if he wants.

"Is this how an Albany politician attempts to change the subject? What is at issue is Albany Tom's calendar as it relates to Attorney General Cuomo's pay-to-play investigation. Again, the public deserves to know who he met with, when he met with them, and what resulted from those meetings. Mr. DiNapoli clearly doesn't want to give up that calendar.