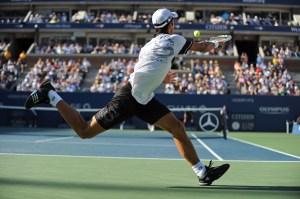 It's pretty impossible to downplay the significance of Novak's extra day of rest. This is someone who gets tired! This is likely someone who made it this far because he benefited from a light workload and cool temperatures in rounds two through five. And while he roved the hallways of Arthur Ashe stadium yesterday, he certainly looked happy. "I called it! I called for rain," he shouted. He spent some time looking at oversize photographs of former champions that cover the walls of the hallway near the men's locker room. He was marveling at the size of their racquets (much smaller!). This was a happy, comfortable time for Novak who gets full rest for the Men's Final against a player arguably having the best year in tennis in decades.
Though the rest issue is really big for Novak, there might be a more valuable lesson to prep him for his match against Rafael Nadal: How he beat Roger.
He was the first to admit that he took some crazy risks on their Saturday afternoon match, especially with two big, booming forehands when he was down two match points. "Today, I kind of closed my eyes on the forehands in the match points and just went for shots. I was lucky," he said.
But why did he feel that confident? Because he said he wasn't that nervous.
"I got a little bit nervous end of the first and third set, and that's why I lose those sets," he said. "But anything except that, I think played overall a great game … I just knew I have to be patient and not lose my emotions too much, because that was the case in the past where I was losing the momentum with him."
He made the point that in tennis matches — like NFL games where 50 percent of the time the winner of a game wins by less than 8 points — there isn't a lot that separates two opponents.
"I knew that before the match very few points will decide the winner," he said.
After Novak's fourth-round victory he explained that pressure actually — surprisingly — seems to mount the older you get. And he's finally figured that out and he's finding a way to handle that.
"At that time I was a 19-, 20-year-old kid who just didn't care much about pressure or anything and didn't know what's pressure and expectations," he said, when talking about his run to his other Open final in 2007. "Just hitting the ball, being very aggressive and open-minded and just playing great game. I think a lot of us wish to have this kind of attitude on the court and not thinking about some things, some side factors that can affect your game, which in this present moment is something I have to deal with. But on the other hand, the positives of me as a player today is that I have more experience, I'm stronger, I just played so many matches on the big stage. I still enjoy."
With his victory over Federer, he obviously learned something: You're going to get nervous no matter what. Deep breath, and play good tennis. And like Roger, Rafa is someone who preys on other players' weaknesses, especially when they get nervous.
Watch out for Novak today. He's learned a lot at this U.S. Open, it sounds like he's maturing by the second and there's a good chance he might play the role of spoiler twice in a row.