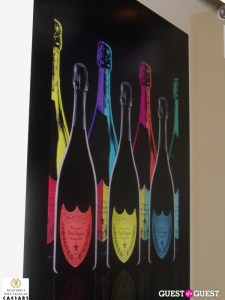 In a diary entry dated March 8, 1981, Andy Warhol described a phenomenon he had discovered called the "2000 Club," a group of men who had purchased 2000 bottles of Dom Perignon only to lock them all in a vault. The plan was to wait until New Year's Eve, right before the start of the new millennium, and pop every one of the 2000 bottles, thus ensuring one hell of a celebration.
We have no way of knowing if a so-called "2000 Club" actually existed, but it doesn't really matter. That party Andy was talking about? The Observer went to it last night.
Well, we can't say we got an exact count on the bottles of bubbly, but there was certainly enough that the neck-tied men keep the stuff flowing from the moment we arrived on. Putting a cap on this year's Fashion Week, Dom Perignon hosted the wild affair at Villa Pacri, the five-story Italian chateau in the Meatpacking District.
The abundance of good champagne wasn't the only influence Warhol had on the event. The planners had meticulously placed Brillo Cream boxes and Campbell's Soup cans all over the villa. Even Dom Perignon got into the pop art game: Warhol-ized bottles were placed around the rooms, although attendees seemed far more interested in actually utilizing the Dom than appreciating it as art.
We saw a man escorting in Courtney Love, who had cleaned up her act a bit since her set at Don Hill's last Saturday. Vanity Fair photographer Todd Eberle bounced around the room, camera in hand. And as Guy Trebay at The Times knows, Russell Simmons is "guaranteed to attend your party if you promise him a free potato chip." So of course he was in attendance as well. Lucky for our friend Russell, the snacks at Villa Pacri were of a slightly higher grade: we sampled gooey mozzerella balls and green olive with melted pecorino cheese.
The 2000 Club was right about one thing: it turned out 2000 bottles was just barely enough champagne to numb the body and mind after ten long days of Fashion Week. Next year, though, we might need more. 2011 bottles, perhaps?