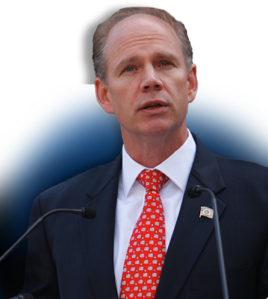 Republican attorney general nominee Dan Donovan held what his campaign says will be the first in a series of weekly conference calls with reporters, and he brushed aside questions about a woman's right to choose and about his ticket-mate, Carl Paladino.
Asked about his position on choice issues, Donovan said:
I am going to enforce the laws the way the way they are. No woman in our state has to be fearful of me being attorney general. Our laws are very clear on a woman's reproductive health care. I will not only enforce those laws as attorney general, I will take the appropriate action against anyone who tries to interfere with a woman's right to choose her reproductive health care. That's a settled issue in our state and I think a lot of people when they can't really address the issues that are pertinent to the attorney general's office, in law we call them red herrings. You try to distract voters from what the real issues are.
Eric Schneiderman has made clear that he intends to make choice issues a central plank in his race against Donovan. As he was speaking, NARAL Pro-Choice New York president Kelli Conlin released a statement saying, "[Donovan] has been supported by the Right to Life party. His campaign told the New York Times that he is against abortion except for rape and incest. In his so-called defense Dan Donovan says he'll be hands off when it comes to abortion issues; he has the nerve to say that it's not a big deal in this state. There is a reason why he doesn't want to focus on it – it's because Dan Donovan is on the wrong side of 75% of New Yorkers."
Donovan also continued to distance himself from Paladino, saying that as a district attorney he was prohibited from even speaking about other candidates running for any other office.
I don't agree with everything that Mr. Paladino says, I don't agree with everything that Andrew Cuomo says or Chuck Schumer or Joe Dioguardi, so again, David, I appreciate your question but I am really concentrating on my race, because my fear is that anything I can say might be taken out of context and seen as an endorsement or interpreted as an endorsement, and I am prohibited from doing that… We are running our race independently as an individual campaign because that's the way the voters are going to look at this. They are going to look at every single race as an individual race."