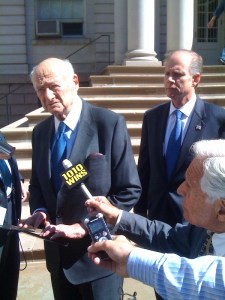 The battle lines are being drawn quickly, and rather clearly, in the general election campaign for attorney general, after state Senator Eric Schneiderman emerged as the winner of the Democratic primary last night late last night.
On the steps of City Hall this morning, after receiving the endorsement of Ed Koch, Staten Island District Attorney Dan Donovan called Schneiderman "not qualified" for the office, and outlined a campaign that will focus squarely on public corruption.
"As Eliot Spitzer used his resources for what he saw as corruption on Wall Street, and Attorney General Cuomo used it to root out corruption in the student loan scandal, I'm going to use my resources to root out public corruption so people can have faith in their government again," Donovan said.
Donovan called himself "someone who's not tied to the corrupt leaders who got us into this mess in the first place," and said he's "not compromised" by ties to the state legislature nor special interest groups.
He also tried to preempt attacks on his position on abortion, after Schneiderman was rather conspicuously introduced by Kelli Conlin of NARAL New York before his victory speech last night.
I'm going to uphold the right of every woman in our state to choose her reproductive health care. It's not an issue in the race. Every woman in ny state has had that right for over 50 years and that's never going to change in our state. It's not an issue in our campaign. Some may try to distract from the real issues by pointing differences with Eric and I in certain areas. But the real issue is public corruption.
Schneiderman's campaign had also timed a press release challenging Donovan to a debate on policing Wall Street, citing comments by Donovan that he wouldn't focus on it in the same way Spitzer had.
"I'll fight corruption wherever it is," Donovan said. "You can pull out the weeds without destroying the fruit and the vegetables. The financial services industry in New York is a great source of jobs and taxes for New York. We don't want to chase it out of our state but we do want to root out the corruption there."
Asked about the selection of Carl Paladino to head the top of the ticket, Donovan played his district attorney card, saying he was barred from endorsing anyone.
"We're running an independent campaign," he said. "I think people are going to understand that we're an independent attorney general and we're running an independent campaign. People will vote for whoever they want for governor and then will come over and vote for me for attorney general."
(Koch chimed in to call Paladino "a disgrace.")
And, just a few minutes ago, Donovan's campaign sent a letter opening up a whole new front, attacking Schneiderman for being soft on crime and referencing his comment that Al Sharpton's National Action Network would have an "annex" in the AG's office.
Here's the letter:
Dear State Senator Schneiderman:

Congratulations on your victory last night. I look forward to a spirited debate about our different visions for the Attorney General's office, especially our stark differences in both experience and principles regarding law enforcement.

I have spent my career as a prosecutor, putting criminals in jail and protecting New York families from crime and violence. Possibly because you have never prosecuted a case, you have taken a different approach, starting with fighting for laws to reduce oversight of sex offenders, letting drug dealers out of jail, and advocating for the rights of criminals ahead of the needs of law enforcement.

From voting against civil confinement for sex offenders, to stalling the Domestic Violence Act of 2010 in your committee (a bill that I authored), I am concerned you are not sufficiently focused on protecting the citizens of New York. Additionally, your record of being the most anti-jobs Senator in Albany, voting for tax increases and voting against property tax caps, is just as troubling.

We are in complete agreement regarding this: the campaign for the Attorney General's office will indeed be about issues, independence and experience. And, it will be decided by the people of New York, not special interests with annexes in the AG's office, and certainly not by an independent moderator.

Yours truly,

Daniel M. Donovan, Jr.