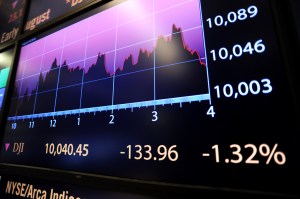 Dear Diary,
Well that was unpleasant.
I lost 76 points today, my worst performance in a while. Only four of my stocks went up. And I was down pretty much all day. Lower at the open, tried to fight back to breakeven, then a late-afternoon nosedive to finish the session. Total bummer.
It didn't help that the number of Americans filing for unemployment benefits rose to 465,000 this week, up from 453,000 last week. Plus, the debt market in Europe still looks really shaky, after Ireland posted that 1.2 percent GDP decrease for the second quarter. And if I weren't already expecting it — or actually thought it would make a difference — I guess I'd be more excited about the big $40 billion stimulus bill that made it to President Obama's desk today.
I was also really upset about Blockbuster's bankruptcy. That company used to just dominate the video-rental game, and now — Chapter 11. (Or, as they used to say in Spanish class — Capitulo Once.) Just shows how cruel and unforgiving business can be, I guess.
On the bright side, I'm still up 6.5 percent for September. I was probably due for a comedown after five straight days of gains and then yesterday's slim loss.
Anyway, I just need some time to clear my head. As always, tomorrow's a new.
Keepin' on keepin' on,
The Dow Jones Industrial Average