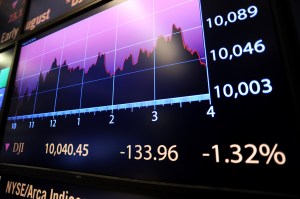 Dear Diary,
Talk about mixed results. Today was one of those days that just kind of blows by. There are some fun moments, then you start to drag, and then suddenly it's over and you're not even sure how to feel. I dropped a little less than 18 points, a fraction of a percent. Not a bloodletting by any means, but disappointing considering how happy I was yesterday. Plus, I wanted to keep that four-day winning streak going. Oh well, tomorrow's a new day.
I'm really confused. Thirteen of my stocks were up, 16 were down and AT&T — good steady AT&T — was just totally flat. It was like this day never happened to AT&T.
I feel the same way. When it comes to the economy, I don't really get the sense that much changed. Yesterday Warren Buffett was basically saying that another contraction is off the table, and today's retail sales were better than expected, but I got to see unemployment decline before I can really feel like we have anything going. Also, with gold hitting an all-time high, there's a palpable sense of unease around the exchanges. When the price of gold jumps that much, it's not just because of the bling factor.
One other thing that left me less than stoked: Shares of Nucor had kind of a mini flash crash, dropping from $35.71 to a penny almost instantaneously, then jumping back up to normal later. Nucor isn't one of my stocks, but it still freaked me out.
Anyway, my eyes are at half-mast. Tomorrow I think I'll try one of those 5-Hour Energy shots or something.
Till next time,
The Dow Jones Industrial Average