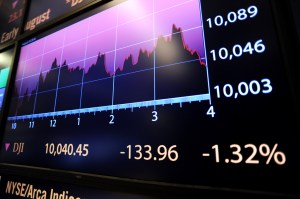 Dear Diary,
Rumble rumble!
Did you hear that noise? That was the sound of me gaining 197 points today! The huge gain totally makes up for yesterday's lackluster performance and locks me in to a fourth straight week of gains. September 2010, I love ya! I'm up 8.4 percent this month — which The Wall Street Journal helpfully points out puts me on pace for my best September since 1939. Ah, September 1939. The Nazis were invading Poland, America was still neutral, The Wizard Of Oz had just debuted, and I, the Dow, was enjoying some of the best days of my life! At the spritely age of 43, I was in a real position to enjoy it.
But let's not get too nostalgic. Today was a good day! Live in the now, I say.
All — I repeat, all — of my 30 stocks ended higher today. The leader of the pack was Caterpillar, which makes tractors and stuff, with a 4.6 percent gain. For a blue-chip stock, that's a crazy one-day performance.
Today's read on August durable goods orders wasn't so bad! New-home sales were flat from July to August, so that's not horrible. Basically, compared to a couple weeks ago, when everyone was talking about a double-dip recession, I'm sitting kinda pretty!
There's only one qualm I have, which is that volume wasn't very high for this rally, meaning a lot of traders really weren't participating. A party can be pretty great with only a couple people, but to have a real rager, you need a longer guest list. Hopefully we'll get some more RSVP's next week.
Have a good weekend,
The Dow Jones Industrial Average