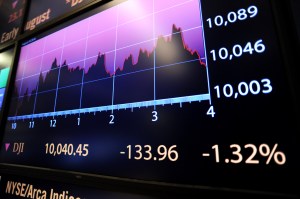 Dear Diary,
To look at the tape, you would've thought today was boring! I skipped back and forth around the baseline all day before finishing up a measly 13 points. But all that dithering and dathering and the ho-hum finish bely some serious back-and-forth about where to go next — up or down?
Don't ask me! My stocks were about evenly split. Thirteen went up, 17 went down. If that's not a recipe for confusion, I don't know what is. Sometimes it helps to write things down. So here goes.
Today's University of Michigan consumer sentiment index fell unexpectedly to 66.6 — the number of the beast! — from an August reading of 68.9. When consumers get cautious like that, they get scared to break out their checkbooks, and when they do that, companies stop making stuff. Then, they lay people off, and those people get more cautious, etc. It's not hard to see why that number stokes visions of fire and brimstone.
And then there's this. The Securities and Exchange Commision is sticking its piggy little snout into financial firms' quarterly balance sheet reports. They want more transparency! Fine, but fears about revamped regulation had the financial stocks like Bank of America (BAC) and JP Morgan Chase (JPM) skidding today.
So none of that is good news, but we also got a flat reading on the Consumer Price Index, which means inflation isn't a big concern, and you know what that means: The Federal Reserve may soon roll out another round of quantitative easing in an effort to stimulate the economy! It's a little perverse that flat inflation — a sign the economy is stagnating — is actually a good sign, but it's just that kind of one-step-ahead thinking that separates stock market investors from your average Joe.
But it's also that doublethink that leaves me up a couple points on a day that was anything but miraculous from a data standpoint.
Oh well! As I always do, I'll take this up day. It leaves me up 1.4 percent on the week, up 5.9 percent for September (September's been a great month so far!) and up 1.7 percent on the year. Up up up, as they say — even though they also say what goes up must come down.
Monday's a thin day from an economic data perspective — just a homebuilding index from the National Association of Homebuilders. No major earnings reports, so it's hard to say what I'll be hanging my hat on to start next week. But I'm sure I'll find something. I always do.
Ciao,
The Dow Jones Industrial Average