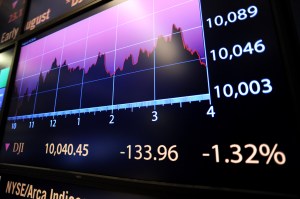 Dear Diary,
T.G.I.F! I managed to close out this shortened week with a 48-point gain. So far, September's been especially kind to me, with only one down day.
I'm psyched to put a positive day in the books right before the weekend, but I'm not going to kid myself. Volume has been really light over the past two days, partly because of Rosh Hashana and partly because the heavy-duty fall trading season hasn't really kicked into gear yet. So these little bumps to the upside over the past couple of days don't have much conviction behind them, I'm not about to get all excited just yet.
Some people are saying that a double-dip recession is unlikely, which is always exciting for me, because my every move is based on the future prospects of America's biggest companies. Wholesale inventories are up, which is a good sign, because it means retailers expect to sell more stuff! Hope they're right.
Other things I sort of looked at today: Austan Goolsbee is Obama's new head of the Council of Economic Advisors. Frankly, that wasn't a rim-shaker, but he's a colorful guy, so I thought I'd mention it.
For the weekend, I'll be taking a good look at the the banking capital summit in Basel, Switzerland. I'm hoping the new rules accomplish some good. They're designed to prevent banks from getting too leveraged and blowing up the financial system like they did in 2008. Not everyone thinks they'll work. The last time a bunch of guys got together to draft some banking rules, we still wound up with a credit crisis on down the line. Not to be cynical or anything, but I've been through enough to bring some healthy skepticism to the table when it comes to regulations.
Anyway, to be frank with you, there isn't a ton to report for today, and I've been distracted by the start of the football season. Would you believe that my cable went out last night and I missed the Vikings-Saints game?! Disgraceful. I had to watch "Hard Knocks" on DVR, and I'd already seen it. Don't tell me who won opening night; I've been avoiding the sports headlines all day.
Till next time,
The Dow Jones Industrial Average