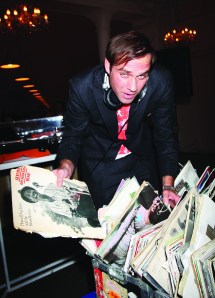 "This is 100 percent my passion," Nur Khan said as we waited for a very late Courtney Love to arrive at Don Hill's on the reopened club's first Saturday night. "I'm a real downtown guy, and I feel like we've lost it over the years, you know. This is the one void that needed to be filled. There hasn't been a CBGB's or a Max's or a Mudd Club in so long."
Until moments before opening for a week of debauched late nights that lured legions of prim socialites to the dive, Don Hill's didn't have a working ladies' room.
Mr. Khan's new venture on the corner of Greenwich and Spring is his second collaboration with Paul Sevigny, after the restaurant Kenmare on the Lower East Side. Tattooed, in a muscle shirt and talking in a rasp, Mr. Khan believes that Don Hill's will be an authentic punk club, a break from the glitz of his past lounges like Rose Bar.
The Observer spent four nights of Fashion Week at Don Hill's to test its formula for relevance–nostalgia balanced against the accumulated cachet of its new owners. Iggy Pop sneered at Nicky Hilton, Mary-Kate Olsen and a slew of models that their "pretty faces are going to hell." "He's a legend," Ms. Hilton said of Mr. Pop. As this transpired, Mr. Sevigny was dancing on the bar–equipped with stripper poles–and Terry Richardson paced around with a camera on his neck. Gwen Stefani and Gavin Rossdale snuggled next to a wall on which "CUNTT" was written in giant letters. André Balazs and Selma Blair slow-danced by a wall of drawings and photographs of male genitalia. Ms. Love spat at Alexandra and Theodora Richards and Byrdie Bell, demanding cigarettes and Red Bulls before her cover of "Bad Romance." Alice Glass of the electro-spazz group Crystal Castles spent most of her performance rolling around in broken beer bottles or flinging her body at the drum kit, a bottle of Jack Daniel's in hand. Irina Lazareneau grabbed our notebook and jotted down a few lines of dreamy free-verse poetry. During a surprise show by the Yeah Yeah Yeahs, Josh Hartnett posed for Patrick McMullan in front of some crudely drawn breasts, with little red nipples and the tag line "Get Your Tits Out." Chloë Sevigny yelled into our ear that Don Hill's has "a little sense of anarchy that I feel like New York is missing," and compared it favorably to her brother's recently shuttered Beatrice Inn.
Don Hill walked into the club he founded that Friday afternoon, as he has every day since the reopening. Mr. Sevigny said he's among the first ones there and the last ones to leave.
"I don't talk too much," Mr. Hill said in the back room, marked by a neon sign as "Sante's Inferno," after the artist Sante d'Orazio, who placed a few of his photographs of nude models in the chain-wrapped den. Mr. Hill said the place began when Ear Inn owner Martin Sheridan called him about opening a non-restaurant venue near his centuries-old watering hole.
"All of a sudden, we had these parties like Squeezebox, BeavHer, and the last big one was Misshapes. We were always lucky enough to have the party that creates a lot of energy. And with those parties come the bands, and then the actors–so it's kind of like a domino theory."
"Even before Sway, I've been coming down here for fun Don Hill's stuff," Mr. Khan said. "I've been repping this place for 20 years!" he said. "I've been very unhappy with the state of affairs with New York nightlife right now," Mr. Khan said. "There's a generation that never saw cool New York. It's all the fancy, slick and who-can-outdo-who with million-dollar artwork, and, you know, penthouses and the panoramic views, and there's a time in New York when it was just about having fun, man. And getting down and dirty and having a laugh–you know? There's a whole generation that have only seen these bottle clubs and this and that."
After we sent many texts to Mr. Sevigny and received one in response –"It's Paul Sev"–we met at McSorley's, in the East Village (Mr. Sevigny's idea). Joseph Mitchell accused the bar of indulging in nostalgia in the 1930s. Mr. Sevigny talked about what it would take for Don Hill's to last.
"There's lots of work to do," he said. "I don't think it's particularly hard to have a cool place for Fashion Week."
Mr. Sevigny denied that Don Hill's is merely an exercise in nostalgia. "To set the initial tone that we're bringing the street into a club, it's a little bit of a reaction to what's happening around New York," he said. "People are talking about how hotel bars are the cool places to be in New York City? That's like telling me to go to a fucking shopping mall!"
He assured us that Don Hill's is "definitely not letting a bunch of banker douchebags in the fucking door." Then again, those unwelcome at Mr. Sevigny's and Mr. Khan's previous nightspots may be in luck at Don Hill's. "The music will have to be not quite as accessible–to police the door in a sense,"
The club's most authentic tie to downtown's past is Mr. Hill himself–a true lifer. "A couple of other people who were bidding on that place were planning on throwing him out, so it's a bit of a redemption for him," Mr. Sevigny said.
"That guy's really the fucking real thing. He was doing cooler things when me and Nur were in fucking diapers than what we're doing now."