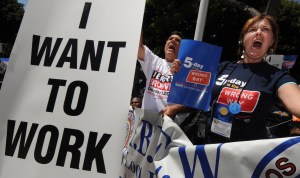 Storm clouds are gathering over the U.S. economy, and everyone from top managers at big companies to the everyday consumer is looking for lightning to strike in coming months.
According to a third-quarter Business Roundtable survey of top CEOs, top managers expect the economy to grow 1.9 percent in 2010, down from a much rosier outlook of 2.7 percent growth three months ago.
Sixty-six percent of CEOs expect their companies' sales to increase in the next six months, down from 79 percent holding an optimistic view in the second quarter. The percentage of CEOs who expect their companies to hire more workers dropped to 31 percent from 39 percent. In one comparatively bright spot, forty-nine percent expected to do more capital spending, up from 43 percent. That last figure is perhaps unsurprising, since interest rates are low right now and so the cost of raising capital is not high.
Meanwhile, down in the economic trenches, forecasts are also getting gloomier. The Conference Board's September consumer confidence index fell to 48.5 in September from 53.2 in August. Forty-six percent of consumers said business conditions are "bad," while only 8.1 percent said business conditions are "good."
mtaylor@observer.com
Twitter: @mbrookstaylor