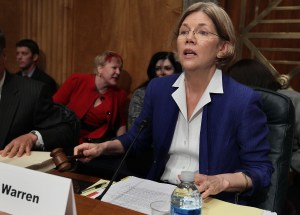 The Washington Post is reporting that Harvard Law professor and chair of the Congressional Oversight Panel Elizabeth Warren will not be teaching contract law to first-year students this year.
The report is obvious fuel for speculation that the Obama administration will nominate Warren to run the new Bureau of Consumer Financial Protection, which was created when Obama signed the Dodd-Frank financial reform bill in July. In the position, Warren, who basically came up with the idea of creating such a bureau, would be charged with making sure banks don't rip off borrowers in debt arrangements such as credit cards and mortgages.
Warren is a fiery advocate for consumer rights and is basically one of America's most outspoken haters on the financial-services industry.
"Dang gummit, somebody has got to stand up on behalf of middle-class families!" she said in a New York Times profile. That's the kind of stuff she says.
If nominated, Warren would still face a Senate confirmation before she could assume the role.
Neither Warren nor White House Press Secretary Robert Gibbs are talking about Warren's candidacy, but this is just one more indication that she may get the big job soon.