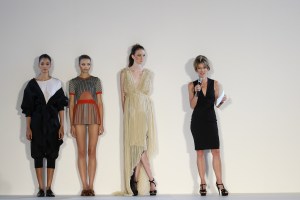 "Can you imagine coming to New York City, as a young designer, right out of college?" Kate Spade Creative Director Deborah Lloyd asked in a documentary that aired this morning before the Elle Fashion Next show at the Koch Theater at Lincoln Center.
It was a fairly pertinent question: the designs that would soon grace the runway were submitted by RISD students, most of whom just graduated, and most of whom would very much like to do just that — move to New York City and make it in fashion.
Elle would soon make that dream just a bit easier for a few lucky art school grads. At the end of the show, the judging panel — an esteemed group that counted among its members Elle Editor-in-Chief Robbie Myers, Nicole Miller and downtown fixture/jewelry designer Waris Ahluwalia — would award one student a $25,000 grant, with Maybelline and Kate Spade awarding two more.
Also in attendance were actress Alexis Bledel and designer Betsey Johnson, though she had to cut out early.
Waris, sporting a jean jacket with a patch that said "unlovable" sewn on the back, pregamed the runway with his drink of choice: chamomile. "It's Egyptian," he told us. "It's how I start the day. I need to keep it toned down a little bit. You can't get revved up this early in the morning."
As for the rest of the week, Waris casually mentioned Paul Sevigny's Fashion's Night Out party at Don Hill's — as if the rest of the city wasn't already dying to go. "I have to plug my friend's place," he conceded.
The top prize went to recent RISD grad David Woo, who turned heads with a top hat that had a top hat coming off it. But even after Myers announced his as the winner, Woo feigned modesty.
"I'm still very young and I have a lot to learn," he said.