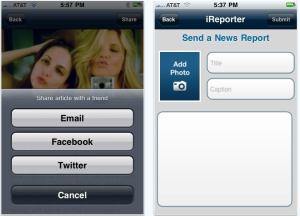 Newsday has a less than stellar track record on digital platforms, but that's not stopping the paper from launching an iPad edition.
Yesterday the paper released an ad campaign for its new app, continuing in the paper's tradition of gripping house ads.
"The new Newsday app is better than the newspaper in all kinds of ways," the advertisement says "except for one." (The ad shows a man trying to swat a fly with an iPad and shattering the screen). We don't write advertising copy for our job, but this seems like the wrong thing to say. Why put the paper down? Why compare the two? Why sell against yourself? Why not just say good things about the app?
Anyway, things are looking very good at the paper after a memo to the staff from editor Debby Krenek last month. What better than an iPad app to put a spring in everyone's step?
Elle has also gone to the iPad as part of the 25th anniversary of its American edition. "The app is much more than just a rendered version," Elle editor Robbie Myers told Memo Pad. It has behind-the-scenes video and iPad-specific content. This is the name of the game.
Elle costs $2.99 on the iPad. The Newsday app is free, unlike the Newsday website, which might have 100 subscribers by now.
(h/t Reid Epstein)