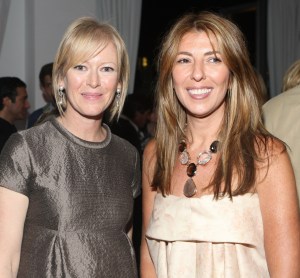 Last night The Observer ran into Marie Claire editor Joanna Coles at Hearst's Fashion Week party. Ms. Coles has been on Project Runway for the last three seasons with Marie Claire fashion director Nina Garcia, and she said the magazine is getting ready to take part in more television shows.
Jason Carbone, the producer behind The Bachelor and The Bachelorette, has been "embedded" with the fashion department in Marie Claire's office for the last week. "We're developing more television," Ms. Coles said, but it's too early to give any more details.
We asked Ms. Coles if being on television was a weird change from editing a magazine, where editors can have more privacy if they choose to.
"I had a very funny conversation the other day with someone at my local coffee shop," Ms. Coles said. "She said to me 'There was a woman just like you on Project Runway [and] the funny thing is that she also had an English accent.'"
Ms. Coles introduced herself to the lady and said that she appears on the program.
"She looked at me and said, 'Well obviously you'd never be on a show like Project Runway' because she only ever sees me when I have on, like, jeans and a T-shirt," Ms. Coles said. "She was like, 'You should really check that woman out. She looks just like you.'"
Earlier: Back to School Night For the Hearst Empire; David Carey Drops Marie Claire and Raises a Glass