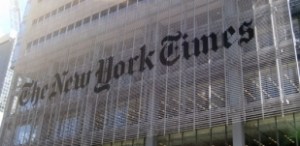 The next battleground for The New York Times and The Wall Street Journal's little newspaper war is apparently the papers' communications departments.
Bob Christie, the PR man for The Times who left the Journal back in March — only weeks before the Journal launched its Greater New York section — has poached from his old PR team.
Mr. Christie just hired Danielle Rhoades-Ha from Dow Jones to oversee all editorial PR for The Times. She'll be in charge of getting publicity for breaking news stories and booking Times reporters and editors on TV.
"There is no one that knows how to better promote editorial content than Danielle Rhoades-Ha," Mr. Christie wrote in an email. "She is trusted in the newsroom at the Journal, Barron's and MarketWatch, as well as by the leading television and radio networks."
Also this summer, Mr. Christie signed a deal with the the PR firm Goodman Media (which used to do work for Dow Jones and the Journal when Mr. Christie was running PR over there), and he scooped up Stephanie Yera, a former Dow Jones freelancer.
So, shall we call it a mini-raid? Maybe not quite yet, but it's something!
"You can call it whatever you want but it is about putting the best possible team in place to promote The New York Times," said Mr. Christie.
In the last six weeks alone, The Times has twice poached from the Journal's newsroom, hiring Journal business reporters Peter Lattman and Susanne Craig.
Bethany Sherman, the Dow Jones PR honcho, sadly didn't take the bait and declined to comment.

Earlier: Times socres a PR Win in WSJ Battle