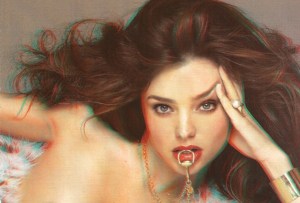 Vogue Italia joins the ranks of Time Out New York and Playboy this September with a cover and two stories in 3D.
Australian model Miranda Kerr appears in a 22-page 3D feature in the magazine (we've cropped the photo here). "[T]here are still ways to make printed paper more and more interesting," editor in chief Franca Sozzani told Memo Pad.
Maybe Ms. Sozzani is talking about transmitting pictures of bare-chested models to readers in eye-popping fashon, but the point is that there's still room to play on paper.
On the flipside of things, we got a press release this morning about another magazine's recently released iPad application. The apps sounds more like pictures of the magazine on an iPad than a new digital reading experience. The release bragged about the app's ability to "ability to zoom-in on photos and text." There's also apparently still room for flat, paper designs on exciting new platforms.