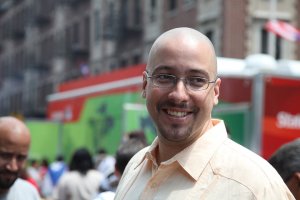 Gustavo Rivera, who is challenging the much-reviled Pedro Espada for his state senate seat in the Bronx, just scored a huge endorsement from El Diario, the city's largest Spanish language daily.
From the editorial:
"The rising leader is an educator with years of experience in public service. He has worked for the New York State Senate and on both local and national electoral campaigns. As a former staffer for Senator Kirsten Gillibrand, Rivera says he worked with her policy staff to get her to better place on immigration issues and with immigrant advocates.

The time has come to close the door on the politics of "me" and for the politics of "we" to reign. District 33 has a chance to do this on Sept. 14 by supporting Rivera.
Rivera has scored the bulk of endorsements in the race, including from 1199, the Working Families Party, Bill deBlasio, John Liu, and Ruben Diaz, Jr, but a third candidate in the race, Daniel Padernacht, could split the anti-incumbent vote and send Pedro back to Albany.