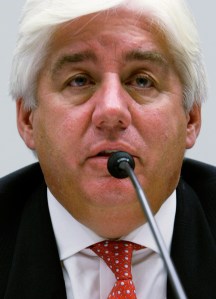 As his former firm fights to unload assets to repay the massive bailout package the U.S. government gave it, ex-AIG chief Martin Sullivan has landed a new gig at insurance firm Willis Group Holdings.
Sullivan will serve as deputy chairman for Willis, and "assist in managing and shaping the long term growth strategy for the company." Willis has made an interesting choice, given that Sullivan's great legacy at AIG was the issuance of enormous loads of credit default swaps — insurance on bad mortgage debt — and other esoteric financial products. The CDS business proved to offer a great short-term growth strategy until the late 2000's, when defaults began pouring in and the company at one point found itself with $2.7 trillion in credit-derivative exposure. He recently testified that for much of his tenure, he basically had no idea how much trouble his firm was in.
Sullivan was ousted in June 2008 and replaced by Bob Willumstad. He walked away from the firm with an estimated $48 million in severance; at least his personal long-term growth strategy survived the financial crisis.
Following Sullivan's tenure, AIG survived only by holding the entire financial system hostage, thereby netting a $182-billion bailout package from the government. And that package may or may not ever be paid back.
"Martin's deep, strong and lasting connections to all segments of the insurance industry will be an enormous asset to Willis, working for our current and future clients in the type of role that has earned him well-deserved recognition over many decades in our business," said Willis CEO Joe Plumeri in Willis' announcement of the hire.
We're pretty sure that Joe's definition of "well-deserved recognition" is slightly different from our own. In any case, congratulations and best wishes to Marty Sullivan and the fine folks at Willis Group Holdings.
(h/t Wall Street Journal)