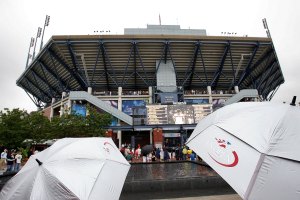 Are we going to get in all the tennis on Friday with Hurricane Earl heading toward New York?
Tennis officials here in Queens are expecting heavy rain from about 8 in the morning until mid-afternoon tomorrow, a source told me. They do, however, (at this point) expect the rain to let up around 3pm, and if it does, that means we might be able to get all the tennis in.
Right now, the schedule for Ashe tomorrow includes a Dementieva-Hantuchova match at 11am, followed by Kim Clijsters and Andy Murray, and then Venus Williams and Rafael Nadal for the night matches.
If the rain does shut down four hours of play, as they expect now, we can safely assume the Dementieva will get moved to Armstrong, and then other matches can get bounced down from there (some Armstrong matches can move to the Grandstand; Grandstand matches can move to Court 11; Court 11 can move to Court 7, and so on). It is conceivable if the rain ends at 3pm that the Clijsters and Murray matches could be over in time for the night session to begin either on schedule, or a little bit after.
It's also unclear if this forecast is optimistic–as we learned last year, even the slighest mist can delay a match–but USTA officials will do anything to get in all the matches, so the schedule doesn't get backed up.
The USTA is expected to post a weather advisory in about 90 minutes, and we'll update when we know more.
UPDATE, NEXT DAY, 1:24pm: Hi there! If you're reading this post, well, ha! Guess this wasn't right. It's cloudy and windy, but certianly no rain. We might get showers later today, but all clear so far.