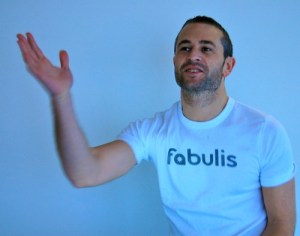 A general rule about social networks is that they succeed by opening up to more and more people. It's a classic case of the network effect, where each user increases the value of the service exponentially. But NYC based Fabulis, a social network aimed exclusively at gay men, seems to be bucking that trend.
The site just raised an additional $375,000 from angel investors and relaunched itself with a version 2.0. Goldberg says the site is 800,000 strong and adding 5,000 new users a week.
Fabulis 2.0 is a mashup of pretty much every popular idea in the Web 2.0 world these days. You can use it as a social network, try shopping with others like you can with Groupon and get local recommendations like users of Foursquare. Fabulis members can even vote each other up and down in categories like, "honest", "sexy" and "foodie", sort of like a Digg for other people.
Goldberg hopes his website will give a whole new meaning to the idea of trending on the internet. "We're taste makers. Look at Lady Gaga and how she effectively targeted the gay market first, a bellwether for mainstream crossover success," said Goldberg. "We don't want the mainstream viewpoint. We want the gay-male take.