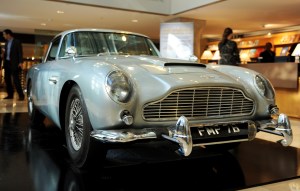 A partner in a fake foreign-exchange investment fund that was actually a Ponzi scheme was today sentenced to five years of probation after cooperating with the authorities, Bloomberg reports.
Bradley Eisner pleaded guilty in 2008 to conspiracy to commit mail and wire fraud. He took money from investors and instead of trading currency bought paintings and an Aston Martin.
He cooperated with the authorities, much to the delight of U.S. District Judge Dora Irizarr, who said the case would not have been made had Eisner not turned himself in and started snitching. He apparently was exemplary at this:
Irizarry said she had never before sentenced "someone who has cooperated with the government where he has come forward to report the crime even before it was on the government's radar" and the scheme was not about to collapse.
Eisner's partner, Michael Richard MacCaull, did not fare nearly as well as Eisner. In March, MacCaull caught a prison sentence of more than 15 years. It wasn't MacCaull's first fraud. He'd previously done 13 months for his involvement in boiler-room market manipulator Sterling Foster.