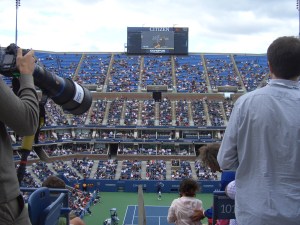 Get that wind-breaker on because it is most definitely not U.S. Open weather. When you look around at those semi-bright yet very cloudy skies, and all those jackets, sweaters and hoodies out in the grounds, it feels like a New York October playoff baseball game for the Wawrinka-Youzhny quarterfinal match this afternoon (first set right now, on serve).
Technically, it's 71 degrees, but it feels much colder than that, like you're walking on the beach in the Hamptons on a cloudy, windy, early Fall day. Tonight, it is expected to drop to the high 50s. Last night, it wasn't quite that cold yet Roger Federer still complained that it was too cold. Tennis players aren't used to these temperatures.
The temperature is expected to tick up again tomorrow and Saturday, but the three-day forecast says Sunday will be a day like today (with the possibility of rain), which will definitely set a strange Fall Classic feel to the Men's Final. If we finally get Rafa and Roger playing in New York that atmosphere might be perfectly appropriate.