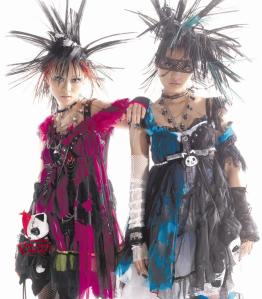 Gothic Punk Lolita and Forest Girl might sound like characters out of a Twilight novel by Nabokov, but they're actually stars of a museum exhibition. The Museum at the Fashion Institute of Technology's next elaborate show salutes groundbreaking Japanese fashion, from the 1980s to the present. About 100 outfits will go on view in the exhibition opening Sept. 17. We talked to Valerie Steele, director of the museum, and curator of "Japan Fashion Now" about the Asian nation's design innovation and surprisingly deep impact on Western fashion.
Why did you decide to do this show?
It seemed to me it would be very interesting for a New York audience to get a show which looked at the full range of Japanese fashion now. The introductory gallery will remind everybody what was so earth-shattering about '80s fashion. … And then the big gallery looks at the whole panorama, high fashion, new designers, street fashion, subcultural styles, men's wear … really cool men's wear is coming out of Tokyo. Everything that goes together to make Tokyo one of the world's most exciting fashion cities.
'Earth-shattering?' Can you talk about why Japanese fashion had such an impact in the '80s?
In the early to mid-'80s, avant-garde designer fashion, principally by Issey Miyake, Comme des Garçons and Yohji Yamamoto, absolutely transformed the world of fashion. At that point, Western fashion was quite body-conscious and colorful, and suddenly you have these kind of Amazonian models striding down the runway in flat shoes. And they are wearing clothes which are … quote-unquote oversized or asymmetrical and black, or, as I say, dark, dark indigo. And this caused tremendous controversy and enthusiasm. It was just really a revolutionary moment and ultimately it became completely integrated into fashion.
'Japan is the first non-Western country to have a radical impact on global fashion,' said FIT Museum director Valerie Steele.
How did it influence designers outside of Japan?
Other avant-garde designers and even high-fashion designers, like at Chanel, would start exploring deconstruction as a way of investigating how clothes were made and unmade. It was a very exciting sort of alternative image to fashion.
What's different about this exhibition?
I really wanted to mix it all up.
There have been a few shows focusing on Japanese fashion, but mostly they have either done the big names of avant-garde fashion who emerged in the '80s or they have been little looks at street style.
There's a handful of looks showcased-Forest Girl, for example. What do they look like?
Well a Forest Girl look is very much … It's interesting, it's very sweet. It's somewhat hippie-ish. It's involved with inspiration from the idea of the Black Forest and Eastern Europe. Some of the clothes are new clothes; other times, Forest Girls will put together a look made of a combination of new and vintage clothes. There will often be details in lace or aprons. And soft cloth bags as opposed to prestigious leather handbags. Mostly flat shoes. Then you have something like the Princess Decoration style that's lots of pink. … It's highly decorated with all kinds of accessories. And then you have something like a Shibuya … more kind of trendy teens.
What about the hugely popular Gothic Punk Lolita look?
There's a whole range of styles. Some are more gothic punk, some are more gothic Lolita, some are more punky, some are more kind of occult-looking.
Are the Lolita and the Princess Decoration personalities? Like how in America we'd say, "that person's a punk."
It's like a style tribe, exactly. Those are like punks and goths in the West who have a style tribe, or hippies in the past, or mods in the past. Young Japanese people have really enjoyed this concept of style tribes.
What is it about Japanese culture that has allowed all this to evolve?
Japan is the first non-Western country that's had a really major radical impact on global fashion. I think that their history, the way Western fashion was introduced, sort of from the top down, from the Imperial court down, [had] an impact. But even as far back as the 11th century, before a regular pattern of style change had emerged in Europe or anywhere else, [there] was already a kind of fashion sensibility in Japan. The concept of being up-to-date was really important for aristocrats at the court.
What about in Japan today?
There's a sense that, within Japanese culture, the ephemeral, the changing, the up-to-date, the fashionable has tremendous deep-seated appeal. Plus, the sort of ingrained other ideas of uniformity and conformity to dress codes for who you are in society all seem to have merged to create a culture that is very fashion-forward and also very demanding about high quality.
How is Japanese fashion manifesting itself in American street fashion or pop culture? I remember Gwen Stefani's Harajuku girls.
That's one example-a lot of young people know what Harajuku is. I think that fashion is a part of visual culture, like anime and like contemporary art. And Japanese culture certainly had an influence on international art and international interest in anime and graphic novels and so on.
Some of what we see is more subtle. Like designers will go over to Japan and … they will come back and maybe incorporate elements into their collections, which we wouldn't necessarily recognize as 'oh that's from Japan,' but the fact [is] that Western designers love to go to Japan because it's such a fashion fix.
Any specific examples?
People like John Galliano, Marc Jacobs, Karl Lagerfeld are all designers who have gone to Japan and have admired Japanese contemporary fashion culture. When I was in Japan last time, I ran into Jeremy Scott in a used-clothing store, and you know, we were just trying crazy stuff on and going on about how fabulous the Japanese fashion culture was.
Can you talk about current Japanese designer fashion?
One name which is emerging as an important young designer is the brand name Sacai, and the designer's name is Chitose Abe. She had worked for Comme des Garçons, and then she set up her own company … another brand, Matohu, is also very interested in exploring the influence of traditional Japanese aesthetics. People in the West, if they are fashion people, will have heard of Undercover by Jun Takahashi … He is interested in exploring the ugly as well as the beautiful. … I bought a blouse from Undercover. From a distance, it looks like it's a floral print, but if you look at it closely … you go, 'Oh my God, it's like little vampire mouths with little sharp teeth!' It's so cool.
What do you want people to take away from the show?
I hope that it will open people's eyes to the fact that there is this fantastic fashion city full of cool stuff that they may have never seen before. I regard it as being almost like a virtual trip to Tokyo.
editorial@observer.com