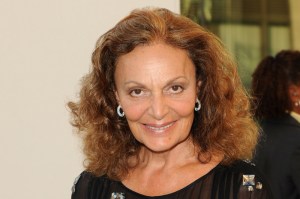 We, somewhat unexpectedly, spent Fashion's Night Out in the Meatpacking District last night; we'd planned to head over to Soho, but after we saw the parties Diane Von Furstenberg and Catherine Malandrino were throwing, couldn't tear ourselves away.
Ms. Von Furstenberg spent the evening flitting back and forth between her Washington Street boutique and fittings across the street for her Sunday runway show; she was joined by Molly Sims and Alison Brie. We caught up with DVF on one of her rounds, halfway between a stint at the DJ booth and her entrée into something called the HP Experience Lounge, which uses large touch-screen LCD monitors to make Fashion Week look like it's taking place in a spaceship. "It's just a party with design and music, and people get dressed!" Ms. Von Furstenberg said, aptly summing up the evening's proceedings. A lovely, leggy fan interrupted to say hi, cooing at the evening's star, who cooed right back. "She came all the way from Greece!" DVF told us, clutching our arm.
We also spotted Bravo SVP and noted Housewife wrangler Andy Cohen on the sidewalk outside, lingering near a white Maserati convertible. We couldn't help asking whether Teresa Giudice, of the New Jersey hausfraus clan, left any bruises when she shoved him into a chair on the recent, contentious season reunion. "No! Oh, my God, I'm so clean," he said. Thank goodness! Mr. Cohen said the shows he's most excited for this week include Ms. Von Furstenberg's and Isaac Mizrahi's. Never one to resist the opportunity for a plug, he added, "Oh, I'm excited about the Top Chef finale on Wednesday night! There's an amazing party at Craft celebrating it, and I'm very excited about that, because it's one of the best finales that we've done." Don't worry, Andy–we're DVRing it!
When Catherine Malandrino entered her own store on Hudson Street, she was able to maintain a slightly lower profile than the immediately-mobbed Ms. Von Furstenberg; she casually chatted with fans and enjoyed being the mistress of her own domain. "I just had a woman who was asking me about the same look I'm having tonight, wanting to buy exactly the same [one]. And some telling me about why they buy my dresses… it makes a lot of hard work worth it!" Ms. Malandrino said, her charming French accent fully in evidence. She had just arrived from judging a makeup competition with with Trish McEvoy and Hamish Bowles. "Yeah, at Bergdorf Goodman! It was great! There was a very talented artist that we all agreed to. I think it's a very special night to encourage customers and people that love fashion to be part of a very collaborative world." We're not sure exactly what that means, but we love the way she says it!