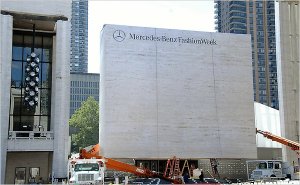 Beyond the stilettos and couture, The New York Times reveals Fashion Week for what it really is: a logistical nightmare in need of some extra elbow room.
The new space at Lincoln Center is 30 percent larger than the traditional Bryant Park location, "where traversing the lobby was like playing a real-life game of frogger," says the Times. The organizers have also overhauled the layout, the signage, the process for getting cabs — and intro'ed a new barcode system that should make Fashion Week as secure as those other runways. "It works really well for airports," said Alison Levy, a spokeswoman for ING fashion.
Since it just got a lot harder for the rest of us to sneak a peak, the Times offers a detailed description of the new layout, which includes an imposing 50-foot facade (pictured) designed to look like the Met and staircases leading to a series of interconnected tents.
In other pre-Fashion Week real estate twitter, let's not forget the boost it offers to local retailers. More than 90 designers will present and others will show around town, and stores await the friendly injection this promises to give to sluggish retail sales. Online retailers have also rented extra space this year, one broker told The Observer.
lkusisto@observer.com