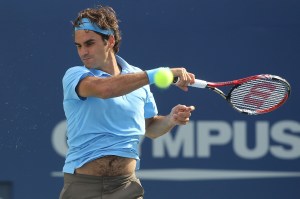 Roger Federer, Caroline Wozniacki and Maria Sharapova all advanced in straight sets despite the tough conditions.
And Mardy Fish is beginning to go on a run like he did in 2008. He won in front of a full-house at Armstrong to advance to the fourth round where he takes on the winner of tonight's Blake and Djokovic match.
Wozniacki and Sharapova absolutely dominated in their matches and that sets up a deliciously exciting Round of 16 match. Wozniacki is the world's no. 1–even though she has never done better in a Grand Slam than being a finalist at last year's U.S. Open–and will take on Sharapova, a former Open champion. We'll be sure to take a close look at the match that may be a de facto Final for Monday afternoon.