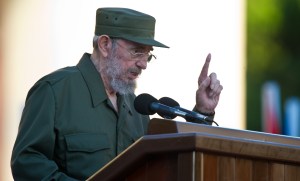 It's not your typical relaxing day in Martha's Vineyard: while on vacation, Atlantic writer Jeffrey Goldberg got a call out of the blue from Fidel Castro's office, inviting him down to the island for a chat, he explains in a piece titled "Fidel to Ahmadinejad: 'Stop Slandering the Jews.'" Apparently Fidel simply liked one of Goldberg's stories, and wanted him to come down in a few days. "I quickly departed the People's Republic of Martha's Vineyard for Fidel's more tropical socialist island paradise," Goldberg writes.
The post offers a rare glimpse into the well-being of the aging political icon who — judging by the lack of in-person coverage — seems to not allow such intimate meetings to be used as fodder for feature stories.
The Atlantic story that inspired Fidel to arrange the visit was "The Point of No Return," Goldberg's piece on nuclear tension between Iran and Israel that provided the cover for this month's issue. "Fidel to Ahmadinejad" — which is the first of a five-part first-person account of the three-day visit — contains extended discourse from Castro on Iran's anti-Israel policy and, as Goldberg puts it, "the consequences of theological anti-Semitism." Fidel makes no bones about his profound dislike of Mahmoud Ahmadinejad for his Holocaust denial and couples the views of Iran's president with a story of his own introduction to anti-Semitism as a child.
But the most gripping thing about the post may be the sheer amount of access Goldberg gets. Such an opportunity cannot be afforded to most writers, of course, and Goldberg takes full advantage. Judging by some of the quotes, it turns out Fidel's wit has ripened with age.
His body may be frail, but his mind is acute, his energy level is high, and not only that: the late-stage Fidel Castro turns out to possess something of a self-deprecating sense of humor. When I asked him, over lunch, to answer what I've come to think of as the Christopher Hitchens question — has your illness caused you to change your mind about the existence of God? — he answered, "Sorry, I'm still a dialectical materialist."
Perhaps the biggest revelation comes during a discussion that veered toward the missile crisis, when Fidel admitted to having doubts about telling the Soviets to bomb the U.S. in the event of an American attack on Cuba. Goldberg's asked whether he regretting the advice he gave the Soviets and Castro said, "After I've seen what I've seen, and knowing what I know now, it wasn't worth it all."
James Fallows has a post at The Atlantic that went up later today about this last nugget from the sit-down. And there are sure to be more accounts of "Fidel being Fidel" to come from Goldberg in the next few days, especially judging by the teaser the closes out today's post. Goldberg plans to use a question Fidel asked him as a jumping-off point: "Would you like to go to the aquarium with me to see the dolphin show?"