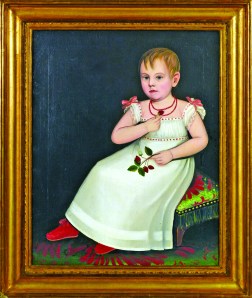 On Feb. 11, 1964, when the Beatles played their first concert in the U.S., at the Washington Coliseum, they were booked by Frank Barsalona. Later, Mr. Barsalona founded Premier Talent with clients like the Who, Herman's Hermits and Mitch Ryder. The Rock and Roll Hall of Fame credits him with "envisioning something bigger for rock music than the shoddy package tours and 15-minute sets that were typical of the day."
You want ironic? The success of the "British Invasion" of rock musicians in the early 1960s helped build one of the better collections of Americana in the U.S.
Mr. Barsalona, along with wife June, poured some of the profits from the music business into art. On Thursday, Sept. 30, the couple's Folk Art collection–41 items, including paintings, needlework samplers and baskets–will go on sale at Sotheby's. The quality level is "off the charts," quipped Leslie Keno, head of American furniture and decorative arts at Sotheby's. The sale of the collection is expected to bring about $4 million to $7.5 million.
Kicking it off is a portrait of Mary Margaret Deuel by Ammi Phillips (estimate: $500,000 to $700,000), a star of American Folk Art whose paintings have traded in the seven-figure range. The painting is one of a series done by Phillips of girls in white dresses and shoes. "This little girl is charming and dazzling with all the bells and whistles–pink ribbons and a spray of strawberries, an important American Decorative Arts symbol," said Nancy Druckman, head of American Folk Art at Sotheby's. Among the rarer items is a copper Liberty Weathervane, made by craftsmen Cushing & White. While spinning roosters are common, "I've never seen a woman," said Barbara Doherty, a Folk Art dealer and collector; it's a rarity that brings the piece an estimate of $50,000 to $200,000.
Sotheby's is pitching the material to more than just Folk Art collectors. Liberty's mold was hand-carved from wood, and her presence is "very sculptural," said Ms. Druckman. "You can put these pieces in a room with contemporary paintings or on a chrome table and they hold up," she said.
Much like the Beatles.