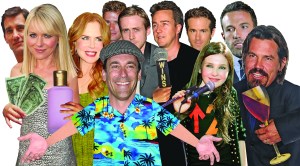 Nicole Kidman is here, trying to smile up some new interest in both a career that has turned anemic and a movie version of the Broadway play Rabbit Hole, which underscores her rarely tapped depths as a dramatic actress. As movies lose luster and star wattage dims, you wouldn't guess it this week in Toronto. The three Ryans are here (Gosling, Reynolds and Phillippe). So is little Abigail Breslin, who has grown from Little Miss Sunshine to a rock star, and Bruce Springsteen, who is being interviewed onstage by world-class journalist Edward (huh?) Norton. Look, there's Aaron Eckhart, Clive Owen, Harvey Keitel, Helen Mirren, Robert De Niro, Kevin Spacey, Dustin Hoffman, Hilary Swank and Uma Thurman. Buying shampoo at the drug store, I trip over Naomi Watts. The man sitting at the end of the table on my right is Anthony Hopkins, and the guy spilling red wine on my shoe to my left is Josh Brolin. Woody Allen exits the red carpet, and 10 minutes later he's been replaced by Clint Eastwood. Galaxies away from his button-down pinstripes on TV's Mad Men, the star with the most street applause is Jon Hamm, braving the rain in blue jeans and a flowered Hawaiian shirt. A big sign as long as a city block next to Roy Thompson Hall–where fans have been sleeping in the street all night for a glimpse of Ben Affleck and Jennifer Garner–asks "Seen anybody famous yet?" And when you nod, you know the Toronto International Film Festival (a.k.a. TIFF) is again in full swing.
When this Canadian clambake was started back in 1976 by three eager film buffs in a Toronto saloon, they couldn't convince one Hollywood studio to send them a full-length feature. Thirty-five years later, TIFF is arguably the friendliest, most popular and best organized movie convention in the world. This year it sold 300,000 tickets to 300 films in 11 days, generated a revenue of $170 million; published a program book 448 pages long; and boasted a staff of 100 full-time employees, 19 programmers and an army of 2,000 unpaid volunteers in orange T-shirts who do everything from ushering to pouring salt on your popcorn. TIFF has come of age, and this year it has even moved into a brand-new permanent home at the Bell Lightbox, a sci-fi superdome on the site of an old parking lot owned by the father of director Ivan Reitman (Ghostbusters), replete with art galleries, film libraries, five state-of-the-art screening rooms and two restaurants where the flacks and hacks gather to meet, greet and tweet. They're still $25 million short of their $196 million fund-raising campaign goal, but ready or not, they opened anyway, staging a Sunday afternoon block party with balloons, fireworks, live rock bands, celebrity arrivals and trucks of free cupcakes. One caveat: Along with smaller, glam-free flicks, the dynamic has changed geographically, too. Now that festival headquarters has shifted miles away, from the swanky neighborhood of Yorkville to the seedy downtown entertainment district near the waterfront, the annual Brangelina parties, shopping sprees at Tiffany's and posh luxury hotels are a thing of the past. With screening venues sprawled all over the city and the press agents and stars 10 miles away, it is nothing to spend $40 on a taxi ride between movies to share a cocktail with Catherine Deneuve. The red carpet premieres are on one side of town in traffic gridlock, but the boldface names have to travel to the gift lounges on the other side of town to collect their free swag bags of Hermés scarves, Gucci handbags and Canadian maple syrup.
Things were off to a rocky start. The TIFF opened in the middle of a bedbug invasion that left audiences at the early press previews complaining of bites on their thighs, backs and rear ends, and so armies equipped with pesticides invaded the combat zone in the days before the official red carpet rolled out, and sponsors and organizers have promised an "itch-free festival." So far, so good. But when all is said and done and the last projector starts rolling, the only that matters is the movies. Excelsior! This year, the richness and diversity has a higher quality than usual. From documentaries about disgraced New York governor Eliot Spitzer and the decline of American public education (starring Bill Gates), to a graphic gay porno film called L.A. Zombie that has been banned in Australia, there is something for everybody. After the opener, a campy musical about hockey with Olivia Newton-John that was generally dismissed as an embarrassment, things picked up with two of the best films I've seen in decades. Actor Ben Affleck has triumphed as both star and director of The Town, a cajones-in-your-face crime drama about the brutal crime scene in Boston's historic Charlestown neighborhood, labeled the bank robbery capital of America. Mr. Affleck is wonderful as the leader of a gang of violent, ruthless thieves who makes the mistake of falling for the pretty, blindfolded hostage who can turn them in to the Feds. Jeremy Renner (The Hurt Locker) is especially creepy as the most vicious thug in the group, and Jon Hamm, in one of his first major roles since Mad Men, emerges as a powerful screen force in the role of a witty, hard-boiled F.B.I. agent. Set in the Boston alleys and Irish bars familiar to Scorsese and Eastwood, and featuring a $3 million robbery during a pivotal Red Sox game in Fenway Park, it is a film with a grip as smart and unforgettable as it is fresh and surprising. The Town is the best heist movie–as well as the most intensely plotted, brilliantly written and carefully directed film about the complex members of a criminal gang–since The Asphalt Jungle. Equally memorable is Never Let Me Go, a lyrical, haunting and lushly photographed adaptation of the great book by metaphysical novelist Kazuo Ishiguro (Remains of the Day), about idyllic children growing up in a baronial English country school who love, laugh and learn about life as all children do, until we discover [ed note: Spoiler alert!] they are clones in a dystopian government project, secretly marketed for the purpose of donating their organs to society in order to save mankind. Carey Mulligan, the Oscar-nominated marvel from An Education, leads a splendid cast that includes Keira Knightley, Charlotte Rampling and Sally Hawkins, in a cautionary tale about the dangers of science vs. humanity. One of the few films I've seen lately that audiences and critics were still debating fiercely days after its premiere, Never Let Me Go is a heartbreaking, imaginative work of art that left me devastated. So did Hereafter, a touching triptych of stories related to the theme of life after death; it finds Clint Eastwood in a more muted tone than usual, with Matt Damon as a sensitive psychic.
After nine months of Hollywood drivel, TIFF is always the launching pad for works of more serious ambition. Common underlying themes in the films coming this fall include people seeking dignity in the face of overwhelming adversity and the sad desperation of terminally lonely people trying to connect in a troubled world–to someone, some place, some sense of justice and meaning, anything! As the director of Trust, actor David Schwimmer does a disturbing job of tackling the terrifying world of Internet predators. In this powerful drama, an emotionally vulnerable 14-year-old in Chicago falls for a boy she believes to be a cute California volleyball player in a popular chat room, but when he arrives in person, while her parents are out of town, he turns out to be a 35-year-old rapist who is nothing like his photos or promises. The story centers on the disastrous effects of the rape on the girl as well as her parents (Clive Owen and Catherine Keener), as they all cope with a nightmare that changes their lives forever. Tony Goldwyn's Conviction is the inspirational true-life story of Betty Anne Waters (Hilary Swank), a Massachusetts wife and mother who devotes her life to proving the innocence of her brother Kenny (Sam Rockwell) after he is sentenced to life in prison for a murder he didn't commit. Neglecting her husband and two sons while scrimping and saving to put herself through law school, she pulls every lever in the corrupt legal system with the aid of famed attorney Barry Scheck (Peter Gallagher) to reopen the case, only to discover after 16 years of work that the DNA evidence has been destroyed. The film chronicles her undying faith as she overcomes one obstacle after another; Ms. Swank is aided by a first-rate cast (Juliette Lewis, Melissa Leo, Minnie Driver and others) and a script that plays like a detective yarn. The ending will leave you cheering. Beautiful Boy is a wrenching story about two parents in a rocky marriage (Maria Bello and Michael Sheen) who are shocked to heartrending depths of despair when their perfect 18-year-old son commits a mass shooting on his college campus before taking his own life. In the hot new "hunky alpha males in jeopardy" genre, nothing could be more harrowing than 127 Hours and Buried. The first one is writer-director Danny Boyle's first film since the Oscar-winning Slumdog Millionaire, the true story of adventurer Aron Ralston, who fell through a crevice on a hiking trip through Utah in 2003 and lay pinned under a boulder for 127 hours until he was forced to cut off his own arm to save his life. A graphic story of courage and survival guaranteed to make you pinch yourself to keep from fainting, with James Franco giving a heroic performance, it forced several members of the audience to be carried out on stretchers during an early preview in Sundance. Not for sissies. In Buried, Ryan Reynolds is a civilian truck driver delivering kitchen supplies in Iraq who wakes up in a wooden coffin underground with no oxygen and a cigarette lighter running out of fluid. With my heart pounding and nerves jangled, I was only able to stand it until the snake showed up. But I wasn't bored.
If proof was ever required that the movie business has changed, consider Robert Redford. The once glamorous and hugely powerful commodity is here like everybody else, shlepping a new film he directed with independent money called The Conspirator, hoping to interest a distributor. It will need all the shlepping it can get. The Conspirator takes place two years after the Civil War during those dark days of April 1865, when Abraham Lincoln was assassinated. John Wilkes Booth, who was gunned down before the curtain fell, is just a peripheral player in the aftermath of the shooting at Ford's Theatre. Seven men and one lone woman–all civilians–are accused of being co-conspirators in a corrupt trial that should have been tried by a jury, not a military tribunal. The war department, run by Lincoln-appointed Edwin Stanton (Kevin Kline), is so hell-bent on pacifying a country desperate to avenge the president's murder that it sacrifices the Constitutional rights of an innocent woman without a shred of evidence. The result is a shameful trial that is both immoral and illegal. Mary Surratt (Robin Wright) is guilty of nothing more than the misfortune of owning the boardinghouse where Booth sometimes visited and his followers lived, but even after the court finds her not guilty, Secretary of State Stanton changes the verdict and makes Mrs. Surratt the first woman ever sent to the gallows in the U.S. With excellent performances by Ms. Wright (she's dropped the Penn), James McAvoy, Tom Wilkinson, Evan Rachel Wood and Danny Huston, a carefully researched screenplay and the kind of period authenticity most indie-prods on a reduced budget only dream about, Mr. Redford has provided a worthy footnote to a part of American history they do not teach in classrooms. The Conspirator has "worthy" stamped all over it with a capital "W," but to me, it lacks momentum, its commercial prospects seem dim and with a running time of more than two hours, it is somber to the point of tedium.
Not bad for a first week in Toronto. And still more new films by Jean Luc Godard, John Sayles, Ken Loach, Francois Ozon, Stephen Frears, Darren Aronofsky, John Carpenter and Werner Herzog to sift through, plus Kevin Spacey as crooked politician Jack Abramoff, and Mickey Rourke as a broken-down jazz musician stranded in the desert who falls in love with the Bird Woman in a traveling circus. So many movies, so little time. Sleep, balanced meals, exercise–they're all on hold. You live on pizza, candy bars and eye drops. Then you prop your eyes open and head for another double feature.
rreed@observer.com