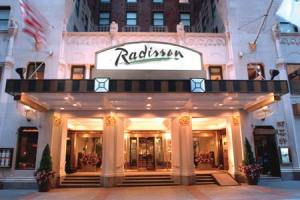 You may expect most tennis stars to stay at places like The Waldorf, Le Parker Meridien, or The Carlyle while they make their stay in New York. Maybe some even rent out a penthouse on the Park! When you're a tennis player with a full international schedule, you only get a couple weeks a year in New York, so why not make the most of it?
But where do stars like Andy Murray and Jelena Jankovic stay?
How about the Radisson!
That's right. For starters, who even knew that the Raddison–that inexpensive hotel where you stay when you make those unfortunate trips to cities like Cincinnati or Jacksonville–was in Manhattan? But it is!
And who else–other than Murray and Jankovic–is staying at the Radisson on the corner of 48th and Lexington?
How about Ryan Harrison (Wednesday's star at the Open), Taylor Dent and Vera Zvonareva? Also: Nick Bollatterri.
According to a guest at the hotel (where all this information comes from), Mr. Bollatterri is a close friend with the folks who run the hotel chain, so anyone who has made a tour through his Academy has a pretty good shot of winding up bunking there.
Apparently the hotel gets pretty decked out for the Open as well. There's tennis everything, a tennis-loving bartender and also a sushi bar (which Open players love, love, love).
Why else stay there? Ah, maybe this has something to do with it, too: Our source tells us the rates are really good.
So if you somehow wind up at the intersection of Lexington and 48th, be sure to give a yell for Taylor Dent who takes on Robin Soderling later today. Or anyone, really. And if Andy Murray winds up winning the Open, we'll be looking closely for the after-party in the Radisson lobby.