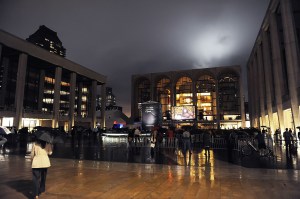 In this morning's Times, Metropolitan Opera General Manager Peter Gelb weighed in on the technical error at Monday's premiere of Das Rheingold.
If you're not aware: a rainbow bridge to Valhalla failed to work as it was supposed to, a stutter-step for the show's finale. As Mr. Gelb pointed out, most audience members probably didn't even notice it.
"We try new things," he told The Times. "Sometimes not everything works as well as we would like. But what we are offering is so new and extraordinary, I think the public is on our side and understands this is the beginning of an epic production journey."
The incident probably wouldn't have received nearly as much attention if so much weren't riding on this "Ring" cycle, and its high-profile set.
The Observer's Zachary Woolfe, for his part, was somewhat unimpressed with the production and thought that the technical error went beyond an opening night anecdote: "we were left wondering if technology had fully betrayed us–staring, last night, at slowly morphing colored bars that recalled nothing so much as a screensaver."
The Times piece mentions that the Met is also working to decrease the amount of mechanical noise that currently emanates from the set.