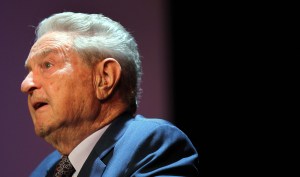 Hey! Some uplifting news about a Wall Street money manager. Hungarian-born billionaire fund manager George Soros is giving $100 million over 10 years to Human Rights Watch, the watchdog group announced today. In donating the funds, Soros challenged Human Rights Watch to match his gift by raising $10 million annually for a decade, but his money will be pouring into the organization no matter how much money it raises.
Human Rights Watch said that the goal of the grant is to push the organization's global growth, especially in the global South.
Soros, an octogenarian, told The New York Times that he's stepped up his giving because he's getting on in years. Although he's abandoned hope of allocating all his planned donations in his lifetime, he still plans to drop a significant chunk of change on his causes.
Soros has donated $700 million this year, says the Times. His activities include the endearing gift of $200 to every New York child on welfare, a move that granted the state access to $175 million in federal funds.